New Clips: 'Green Lantern', 'Transformers: Dark Of The Moon', '30 Minutes Or Less'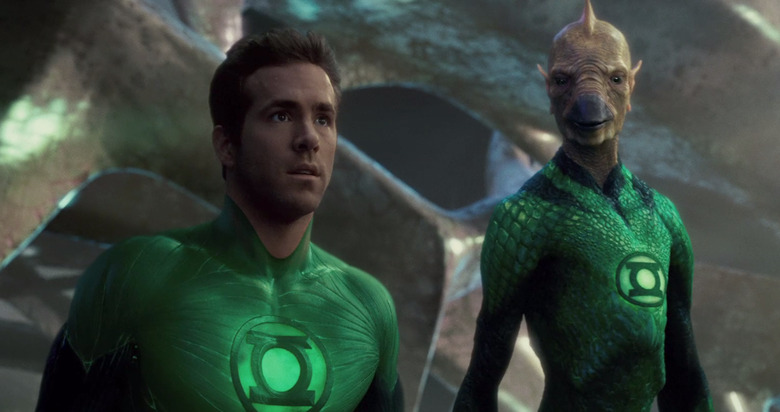 A slew of new clips were released over the weekend, offering better looks at possible future summer blockbusters Green Lantern, Transformers: Dark of the Moon, and 30 Minutes or Less. Whether you want to see the gorgeous world of Oa, an evil alien robot copy machine, or Aziz Ansari molding the future leaders of tomorrow, we've got something for you. (If you want none of those things, though, you're out of luck.) See the clips after the jump.
[via Yahoo! Movies]
Green Lantern is obviously a very effects-heavy movie, so it's heartening to see that those effects look, for the most part, damn good. My one quibble with this clip has to do with the way Reynolds' head and his costume are blended together — am I just being nitpicky, or does it kind of look like Reynolds' head is floating in space?Green Lantern is directed by Martin Campbell and will open June 17, 2011. In addition to Reynolds and Rush, the film also stars Blake Lively, Peter Sarsgaard, and Mark Strong.
Next up, a better look at Transformers: Dark of the Moon, which shows poor Sam Witwicky (Shia LaBeouf) stuck in a lame office job before a copy machine goes and turns evil, thus saving him from a lifetime of Autobot-free boredom. Hooray!
[via Blastr and BenLewisFilms]
Everything from the huge action sequences to the cheesy dialogue to the improbably gorgeous love interest screams Transformers, which I suppose is either a good thing or a bad thing depending on how you feel about the franchise so far. Personally, I remain unconvinced by Michael Bay's promises that Dark of the Moon will be better than Revenge of the Fallen. We'll find out when the film opens June 29, 2011.
Finally, we've got a scene from Ruben Fleischer's 30 Minutes or Less that shows Aziz Ansari explaining the Louisiana Purchase to a roomful of kids before Jesse Eisenberg interrupts his lesson with some very bad news.
[via MovieWeb]
30 Minutes or Less opens August 12, 2011.