Dean DeBlois Talks 'How To Train Your Dragon' Sequel: Middle Part Of Trilogy; Storyboarding Underway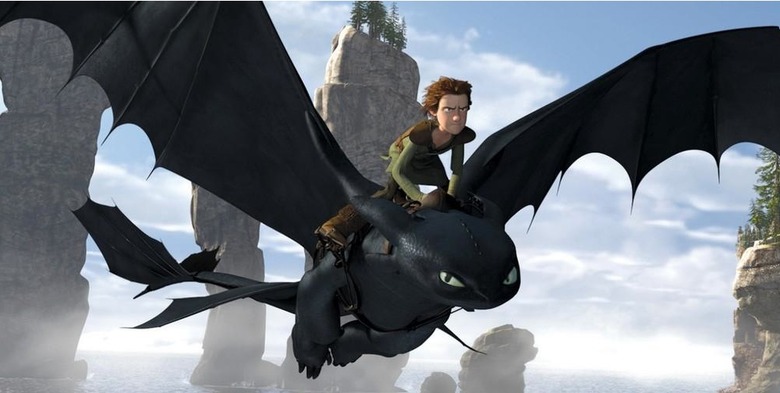 We won't see the sequel to How to Train Your Dragon for another three years — the as-yet untitled film is set to release on June 20, 2014. But work on the movie is underway, and writer/director Dean DeBlois has issued a small update on the production. He confirms that work is underway on the storyboards, and seems to confirm Jay Baruchel's suggestion that the series is planned as a trilogy.
THR reports from Dean DeBlois' appearance at USC's new animation center, where he said that "several drafts of the script have been completed and the storyboarding process has begun."
More interesting, is that the director said,
There are certain characters and situations that come into play in the second film that will becomes much more crucial to the story by the third. Other threads from the first will begin to pay themselves off in the second. It's my way of guaranteeing that it is not another adventure that we throw the same five or six characters into, that it feels like part of a larger story.
We've known that Dreamworks wants to make a couple sequels to this movie, and possibly quite a few. Not long ago Jay Baruchel planted the idea that we would see a trilogy, when he said:
I'm going to be starting work on it this year, yeah. Yes I [know things about it]. I know everything about it. I read it last week! It's phenomenal. And it's not a sequel; it's a chapter two. Because there are eight books, so it's not just finding crazy situations to put our characters in. It's very much a second act of a three act thing.
There are eight books in the Dragon novel series by Cressida Cowell, and we don't know if we'll see a straight adaptation of three books, or if the upcoming sequel and theoretical third film will each cherrypick elements from multiple books. Here's the recap of the second book:
The sequel to How to Train Your Dragon continues the adventures of the son of Stoick the Vast and future leader of the Hairy Hooligan Viking tribe. Although the skinny, freckled Hiccup has more brains than the rest of the Hairy Hooligans put together, he has a hard time garnering respect from anyone, least of all his arch-rival, Snotlout. It doesn't help that Hiccup's dragon, Toothless, is predisposed to hypochondria and cowardice. During a pirate-training session, them meet up with charming "Alvin the Poor-But-Honest-Farmer," who is keen to help them discover the legendary treasure of Grimbeard the Ghastly. After a series of hair-raising, humorous escapades on the high seas, a deadly island, and an undersea cavern, Hiccup learns some surprising things about his previously undervalued abilities.