David Fincher Options 'Panic Attack'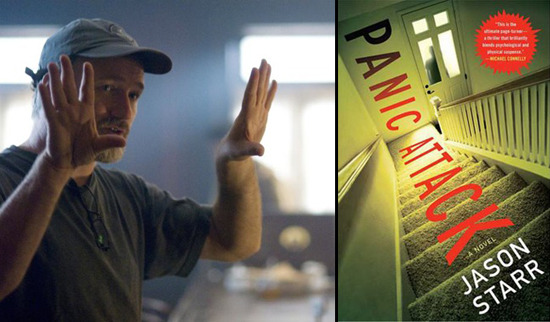 Last year, David Fincher signed a development deal with Media Rights Capitol that would cover the financing of a couple films, and the new step in moving forward with pictures under that deal is the formation of a company called Panic Pictures. Perhaps appropriately, the first property optioned for the company is a thriller called Panic Attack, which Ted Griffin (Ocean's Eleven, Tower Heist) will script.
Vulture has the details of the option, and says the book is about "a New York shrink who shoots and kills a home intruder, then faces a media frenzy and the victim's vengeful accomplice." Jason Starr wrote the book, and tells Vulture,
...the thing about Panic Attack is that there's a really compelling antihero in this guy Johnny Long [the revenge-minded cohort stalking the psychiatrist and his family]... He's a very clever, Ripley-esque psychopath.
Will David Fincher direct? No idea at this point. He has The Girl With the Dragon Tattoo to finish, and may make at least the second of that series of three films. He also has Cleopatra to make with Angelina Jolie, and many other projects in development.
Here's a slightly expanded synopsis of the book:
Carlos Sanchez wasn't expecting anyone to be home, much less have an entire clip emptied into him as he reached the top of the stairs of the brownstone he breaks into in Forest Hills Gardens, Queens. The gun-wielding psychologist, Adam Bloom, is almost equally surprised—instead of being hailed as a hero for defending his wife and daughter in his own home, the media vilify him as a crazed vigilante for using all 10 bullets. Even worse, the sociopathic Johnny Long, going along with his pal Carlos for an easy score, decides to make the Blooms pay in more blood for the incident after he escapes into the night.