'The Girl With The Dragon Tattoo' International Poster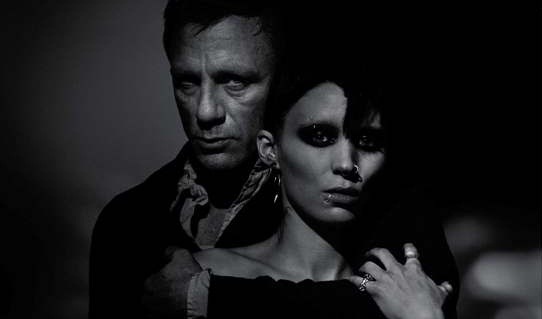 Here comes the marketing for David Fincher's version of The Girl With the Dragon Tattoo. We've seen a leaked red-band teaser and a green-band cut of the same trailer, and those are only the first volleys in what will certainly be one of the biggest marketing blitzes for a year-end movie in 2011.
Now we've got what appears to be a Canadian teaser poster (in French) for the film. It's a new shot of Daniel Craig and Rooney Mara in character. Check out the full image after the break. It is fairly 'edgy,' but not quite NSFW.
That tagline loosely translates to 'Evil will be driven by evil,' but please let us know if there's a better translation. (Thanks to those who said 'Evil Will Be Hunted By Evil,' which is certainly better; there's another poster floating around with an English tagline reading 'Evil Shall With Evil Be Expelled.' The Canadian .ca URL at the bottom of the poster doesn't lead anywhere, but the same address with '.com' appended redirects to the French Sony website. Legit? Looks like it, especially as this photo isn't one that has made the rounds yet.
I wonder if we'll see this same image used in the US. It is a little bit confrontational — Rooney Mara is essentially naked here, which isn't how US poster designs usually go — but definitely appropriate to the story. Though I'd also like to see one where the positions of the two characters are reversed. This poster was described by the Hollywood Reporter months ago. so it is very likely what we'll be seeing in theaters over the next few months. Here's what THR said:
Warming up — as much as he ever allows himself — [Fincher] takes out an iPad and clicks on a photo he's planning to use for the Dragon poster. It shows actor Daniel Craig half-hidden behind co-star Rooney Mara, who's looking directly into the camera. Her hair is spiky, her face pierced with rings, her body covered in tattoos. It's black and white and beautiful, but there's no way in hell any studio will ever let Fincher use it, as he knows. Because Mara is naked from the waist up.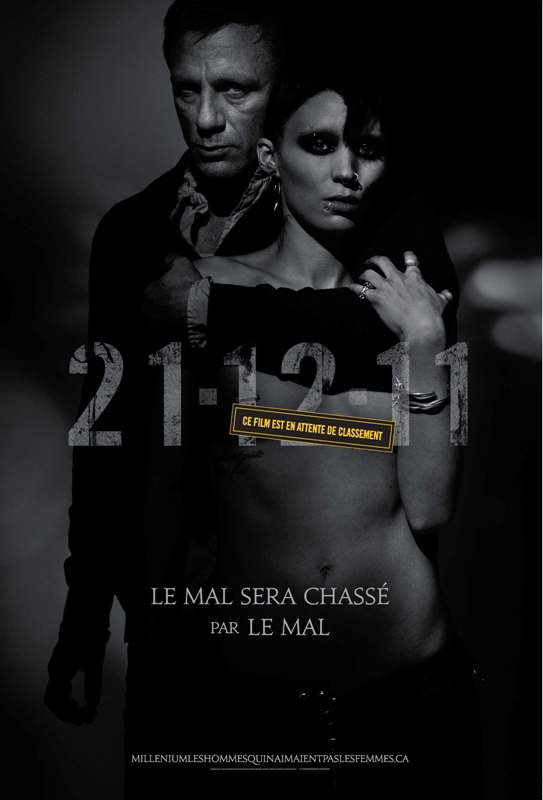 Thanks to /Film reader 'Guts Spill from New Jersey' for passing along the image.