Kate Beckinsale And Jessica Biel Are The Leads In 'Total Recall;' Bill Nighy Is Quatto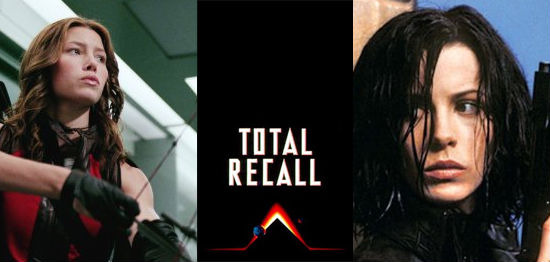 With an August 2012 release date looming, shooting on Len Wiseman's remake of Total Recall is set to begin next week in Toronto. We know that Colin Farrell will be Douglas Quaid and Bryan Cranston will be one of the villains but what of the two ladies in Quaid's life, so famously portrayed by in the original Sharon Stone and Rachel Ticotin? Previous reports have now confirmed to be true as Wiseman's wife, Kate Beckinsale, will be playing Lori, Quaid's wife in his "normal" life and Jessica Biel will be Rachel, the girl Quaid meets in his spy life. Also just announced is that Bill Nighy, who played a pretty gruesome character in the Pirates of the Caribbean sequels, has been cast as Quatto, the leader of the resistance. Read more after the break.
Collider exclusively confirmed the news of the two leading ladies while The Hollywood Reporter broke the news of Nighy. As for the girls I must say, they're pretty safe choices. Both beautiful, commercially successful actresses who have no problem taking a bump or handling a gun. They'll be fine. Nighy is also pretty spot on casting, not too surprising, but not too upsetting either.As we've previously reported, this version of Total Recall, oddly, has nothing to do with Mars. Farrell is still Douglas Quaid but he's a factory worker in a place called New Shanghai who believes he might have an alternative life as a spy. Bryan Cranston is Vilos Cohaagen, the leader of a rival state named Euromerica who is secretly planning to invade New Shanghai. Which side does Quaid actually work for? Well, there in lies the Total Recall.
I can't be the only one who, looking at that cast being helmed by Wiseman just draws a total blank. I love Cranston, I love Nighy and Farrell also has his moments, but don't you kind of already know exactly what this movie is going to be and how it is going to look? I know there are tons of Underworld fans out there but I was done with that whole visual style a decade ago. Maybe Wiseman surprises us though and goes a little more gritty, a little more adult, a little more Verhoeven. Not that I want a shot by shot remake of the original, but at least that film had some style.
Do you think Biel and Beckinsale are inspired choices? What about Nighy? What are your expectations of this movie?