First Look: Jack Black In Richard Linklater's 'Bernie,' Film Will Premiere At LA Film Fest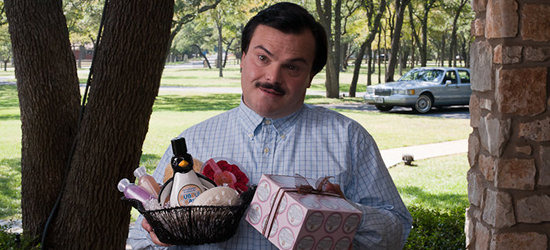 I'm hoping that the reunion of Richard Linklater and Jack Black turns out to be a very good thing. The picture above is the first still from Bernie, the director's new film in which Jack Black plays a small-town mortician who befriends an old woman (played by Shirley MacLaine) and then... well, I'll give you slightly more spoilerish info after the break, but all you really need to know is that Mr. Linklater has called the film his own Fargo. The film is now slated to premiere at the Los Angeles Film Festival on June 16, and I'm looking forward to the first reviews. See another image and get some additional detail on the film after the break.
The film is based on a true story that took place in East Texas, and Richard Linklater started the script about a decade back. He has said of it,
[And it's] set in a little town of Huntsville, East Texas, kind of a little black comedy. It's my 'Fargo' in East Texas, where I group up, so it's crazy local with fifty characters. It's about a funeral home assistant who befriends this old lady. It's kind of a true crime story.
Given the basic setup and the end of his quote there, you can probably figure out some of what happens. (Especially in conjunction with the 'so nice he's creepy' appearance of Jack Black in that still.) I won't give you too much more info, but you can check out the Texas Monthly article that inspired the movie, and you'll get the idea. In addition to the two leads, Bernie features Matthew McConaughey and Rip Torn, and that makes quite a nice cast to lead the collection of small-town characters. It has been difficult to be interested in anything Jack Black does of late, but I'm hoping this breaks the pattern.
We'll have some first reviews after the film opens the Los Angeles Film Festival on June 16. Guillermo del Toro is guest-directing the fest, and the film he co-wrote and produced, Don't Be Afraid of the Dark, is closing the LAFF on June 26. [LAT]