'Transformers: Dark Of The Moon' 3D Trailer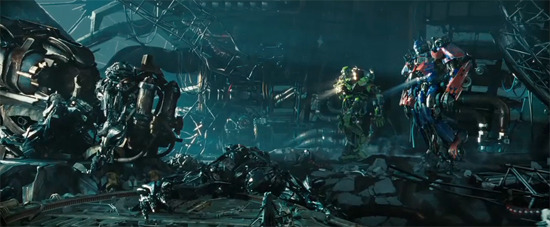 Paramount has been blitzing us with Transformers: Dark of the Moon footage this week, from the Cameron/Bay 3D talk to a couple of clips and now a new trailer for the film intended to run in 3D with Pirates of the Caribbean this weekend. You obviously won't be able to see it in 3D here, but we have a nice 2D presentation of the trailer, complete with some big new shots, after the break.
This is basically the trailer from a couple weeks back with a few new bits added, and even more of an emphasis on showing broad action.
One thing you can see if you frame through this one is the way that Michael Bay made an effort to create a few layers of depth — fore, middle and background — as he mentioned in the clip from the 3D talk we presented earlier. That sort of spacial awareness is simple, sure, but it's a lack of that sort of thinking that really hurts the 3D in a great many other films.
You can also get a good look at what looks like a quartet of Transformer versions of the Space Jockey from Alien. What's that about?
Transformers: Dark of the Moon, previously scheduled for July 1, will now open on June 29.