/Filmcast Ep. 147 - Bridesmaids (GUEST: Tasha Robinson From AV Club)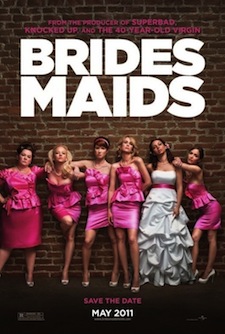 This week, Dave, Devindra, and Adam wonder what's happened to the careers of Trey Parker and Matt Stone, take sides over Blue Valentine, praise the combination of Werner Herzog and 3D, and discuss the appropriateness of Hunger Games casting. Special guest Tasha Robinson joins us from AV Club. You can no longer listen to the Book of Mormon soundtrack, but you can purchase it on iTunes.
You can always e-mail us at slashfilmcast(AT)gmail(DOT)com, or call and leave a voicemail at 781-583-1993. Join us for our next live broadcast on Sunday, May 22nd at Slashfilm's live page where we'll be discussing Pirates of the Caribbean: On Stranger Tides.
Download or Play Now in your Browser:
Subscribe to the /Filmcast:
Shownotes
Introduction
Tasha Robinson from the AV Club joins us!
What We've Been Watching
David Chen (02:00): I Saw the Devil DVD, Book of Mormon Soundtrack
Tasha Robinson (17:05): Death Wish 3 and Freaked
Devindra (22:20): Cave of Forgotten Dreams 3D
Adam (26:56): Blue Valentine, The Illusionist
News Discussion
Featured Review
(52:00) Bridesmaids
Credits
A big thanks to our sponsor, Audible. You can get a free audio book by going to audiblepodcast.com/filmcast.
Our music sometimes comes from Point 22 courtesy of the Podsafe Network, and Brad Sucks
If you'd like advertise with us or sponsor us, please e-mail slashfilmcast@gmail.com.
Contact us at our voicemail number: 781-583-1993
You can donate and support the /Filmcast by going to www.slashfilmcast.com and clicking on the left-hand side "Donate" links! Thanks to all our donors this week!