Aaron Eckhart, Sean Bean And AnnaSophia Robb Join Dark 'Peter Pan' Project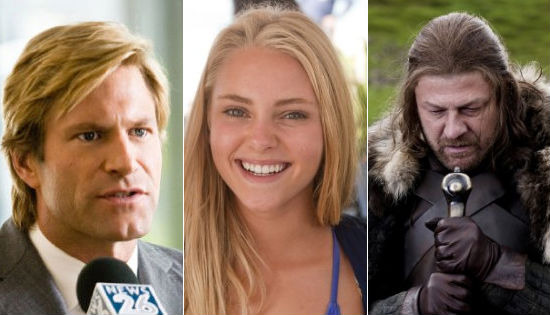 As two Snow White films gear up to go into production, the next big fairy tale that'll be racing to the big screen is Peter Pan. Several competing projects, all with slightly altered takes on the classic J.M. Barrie tale, are in various stages of development and now one seems to have jumped ahead of the pack. Essential Entertainment has reportedly cast Aaron Eckhart, Sean Bean and AnnaSophia Robb in a dark take on the Peter Pan tale last year rumored to be called Pan, written by Ben Magid (Hack/Slash) and directed by Ben Hibon (who did the animated sequence in Harry Potter and the Deathly Hallows Part One). In the film, Captain Hook (Eckhart) and his partner Smee (Bean) would chase Pan, a villainous kidnapper, whose last victim Wendy (Robb) helps track him down.
ScreenDaily broke the news of this casting, which was reportedly once set up at New Line as a possible directing gig for Guillermo Del Toro. The package hopes to kick off pre-sales in Cannes before shooting beings in October.
Word of this project first was revealed by Variety last November but then, in March, we ran an article detailing several of the possible Pan projects and this one did not appear on the list. However, the plot description is exactly like a spec supposedly written by Aaron Henry and Kirk Kjeldsen. We're not sure if Magid did a new version of that spec or if the two projects are totally independent, as The Hollywood Reporter says one thing and IMDB Pro says another.
Either way, flipping the Pan tale to make him the villain and Hook the hero kind of goes against the whole point of Peter Pan. Peter Pan is about never wanting to grow up and the joys of childhood. It's not about kidnapping or Captain Hook, they're totally secondary.  It's almost as if the idea of even loosely associating the film with Peter Pan is insignificant when it could just be a Sherlock and Watson type team chasing a brutal child criminal. Why does it have to be Pan? But, if Eckhart, Bean and Robb have all signed on, chances are it works.
Does this sound like a cast, and take on the material, you can get behind?