Casting Bits: Thomas Ian Nicholas Will Attend 'American Reunion', Al Pacino Signs On For 'Gotti', Maggie Gyllenhaal And Viola Davis Join 'Still I Rise', Billionaire Warren Buffet Applies For A Job On 'The Office'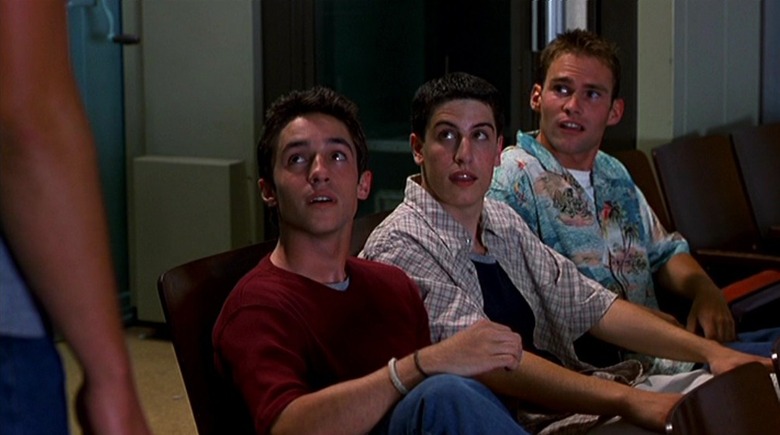 Universal's been saying for a while now that the entire American Pie gang would be returning for American Reunion, and what do you know, they're actually making good on that promise. Thomas Ian Nichols has just signed on for the fourth theatrical entry of the long-running American Pie franchise, making him the last major character to sign on. Fellow Pie stars Alyson Hannigan, Seann William Scott, Jason Biggs, Tara Reid, Mena Suvari, Chris Klein, Eddie Kaye Thomas and Eugene Levy have all previously confirmed their involvement.
I haven't heard any news on whether Jennifer Coolidge might be reprising her role as the original MILF, but as The Hollywood Reporter calls Nichols the "last holdout," I'm guessing that's a no. We'll miss you, Stifler's Mom!
In the 1999 film, Nichols' Kevin Myers was one of the four central friends who made a pact to lose their virginity before graduation. The new sequel will see the original gang returning to their hometown for their ten-year high school reunion. American Reunion will hit theaters April 6, 2012. [The Hollywood Reporter]
After the jump, new projects for Al Pacino, Maggie Gyllenhaal, Viola Davis, and... Warren Buffet?
Three Generations will be a reunion for Pacino and Barry Levinson, who recently replaced Nick Cassavetes as director. Pacino and Levinson previously worked together on last year's Emmy-winning HBO film You Don't Know Jack.Three Generations will also see Levinson working again with another former colleague: Bugsy screenwriter James Toback, who will be rewriting the Three Generations script with Levinson. Production is slated to begin in New York this fall, for a late 2012 release. [Variety]
Did Waiting for "Superman" not do enough to convince you the U.S. public school system is in trouble? Well then, perhaps the new drama Still I Rise will do the trick. Directed by Daniel Barnz (Beastly), the film follows "two mothers who channel frustration into action and join forces to transform an inner-city public school." Maggie Gyllenhaal and Viola Davis will be playing the leads.
Still I Rise isn't based on one single true story, but rather is "inspired by current events" and hopes to "take aim at the crisis of public education in America." Shooting is scheduled to begin May 23 in Pittsburgh. [Deadline]
Finally, the quirkiest bit of news for last: Billionaire investor Warren Buffet has just agreed to a cameo appearance in the season finale of NBC's The Office, as a job applicant gunning for Michael Scott's old job. Buffet doesn't have much in the way of acting experience, but he may be uniquely qualified for this particular role. According to Variety,
Buffett enlisted the "Office" cast for a skit shown in April at the annual shareholders meeting for his company, Berkshire Hathaway. [Steve] Carell appeared in the skit, in which Buffett pretends to take over for Michael Scott as the head of the Scranton branch of fictional "Office" company Dunder Mifflin.
Buffet is just one of a bevy of notable guest stars set to appear on the episode. The series' first post-Steve Carrell finale will also feature Ricky Gervais, Will Arnett, James Spader, Ray Romano, Catherine Tate and "some guy named Jim Carrey." [Variety]