First Look: 'Abraham Lincoln Vampire Hunter,' Plus Some New Details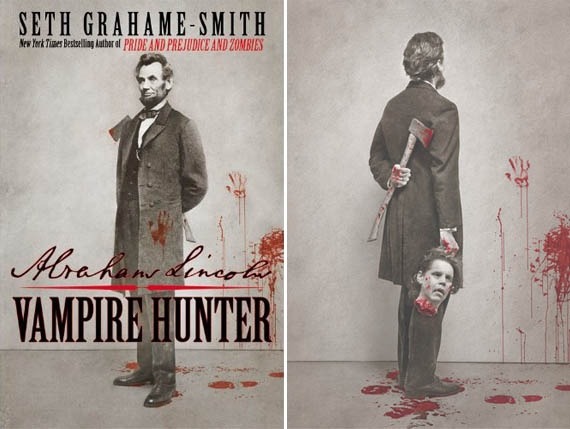 You don't have to wait until next summer to see what Benjamin Walker is going to look like as the ax-wielding, vampire killing 16th President of the United States. While most major films wait until after shooting is done to begin building hype, The New York Times has published a feature article on Abraham Lincoln Vampire Hunter that includes our first look at the film while it's still in production in Louisiana. Directed by Timur Bekmambetov, produced by Tim Burton and based on the novel by Seth Grahame-Smith, reimagines Lincoln's history. It surmises that Lincoln's parents were killed by vampires and that he dedicated the rest of his life to destroying all blood-suckers. It stars Walker as Lincoln, Mary Elizabeth Winstead as his wife, Mary Todd and actors like Rufus Sewell, Dominic Cooper and Anthony Mackie.
And though the idea is totally out there, Grahame-Smith thinks it's now more appropriate than ever, especially with the national reaction to the killing of Osama Bin Laden.
There's something in the American psyche, we want our presidents to be warriors. We're giving that to Abraham Lincoln, sort of posthumously in this case.
Check out the photo and some new info on the film after the break.
Thanks to The New York Times and their photographer Stephen Vaughan for this photo.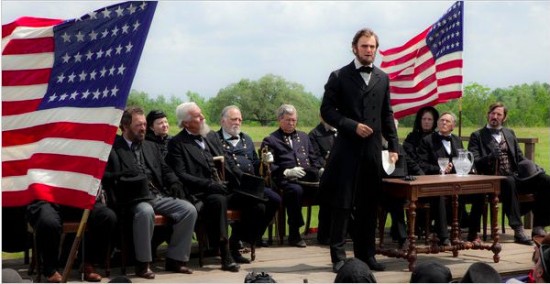 Not exactly the most revealing photo but you do get the sense of detail and realism Bekmambetov is going for.
In their article, The NY Times goes through a lot of what we've covered in the past: casting, the elaborate sale of the property, etc. But they do talk to almost everyone involved with the production and get a few new details. Some of which could definitely be considered SPOILERS. So beware.
The film takes place from Lincoln's childhood to assassination "and — because this is a vampire story — beyond."
The vampires are involved in the slave trade but they aren't all bad, leading to a moral dilemma for the President.
To heighten realism, the production designer is using real locations as well as special effects in ways that are similar to, but dwarf, those in Woody Allen's Zelig and Robert Zemeckis' Forrest Gump.
They've hired a State Historian to "to show the filmmakers how they might slip vampires into Lincoln's story with minimal damage to the historical record."
Over 8,000 costumes were made, most of which are scheduled to be destroyed. One particularly big scene for costume destruction, and probably vampire destruction, is the Battle of Gettysburg.
For a summer blockbuster, the $70 million budget is modest. But Bekmambetov is shooting fast and found real locations so he's making it stretch.
Lincoln will have a special overcoat for vampire hunting that simultaneously cloaks him will hiding weaponry.
Definitely head over to the Times to read the full piece. But the fact that the studio is confident enough to let some images and info slip out this early is proof of two things. One is their confidence in the material and second is they know it's a huge gamble and are going to needed to ease people into such a radical idea.