This Week In DVD & Blu-Ray: The Green Hornet, The Dilemma, A Somewhat Gentle Man, And More
We may receive a commission on purchases made from links.
This Week in DVD & Blu-ray is a column that compiles all the latest info regarding new DVD and Blu-ray releases, sales, and exclusive deals from stores including Target, Best Buy and Fry's.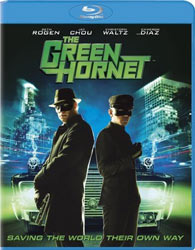 THE GREEN HORNET(Blu-ray available as single-disc and Blu-ray 3D / Blu-ray / DVD Combo)
The Green Hornet is a complete mess. Michel Gondry may be credited as its director, but it plays far more like a Seth Rogen comedy, with only occasional opportunities afforded to Gondry to inject his off-the-wall visual flourishes. Had Gondry and Rogen shared a more consistent overarching vision, the film might've been something special, but as it stands the story is too clumsy and shapeless to satisfyingly coalesce as a whole. And yet, I greatly enjoyed watching it. For all its faults, Rogen's self-aware spin on the superhero genre overcomes its lack of narrative momentum by never running out of amusing conceits to play around with from scene to scene. Once again bringing a loose, parodic slant to heftily-budgeted material, Rogen and his writing partner Evan Goldberg supplant a familiar formula with an array of clever, distinctive touches, ranging from the character dynamic (the superhero remains useless throughout, while the sidekick is forced to do all the work) to the subversive humor (a lengthy altercation between Britt Reid and Kato puts the brawl from They Live to shame) to the action scenes (the crime-fighting duo take a wild ride in the Black Beauty during the film's appreciably ridiculous climax). The film may be a failure, but at least it's a fairly unique and entertaining one.
Available on Blu-ray? Yes.Notable Extras: DVD – A filmmakers' commentary, a gag reel, and 2 featurettes ("Writing The Green Hornet", "The Black Beauty: Rebirth of Cool"). Blu-ray – Includes everything on the DVD, as well as additional featurettes ("The Stunt Family Armstrong", "Finding Kato", "The Art of Destruction", "Double Barrel"), a Jay Chou Audition, The Green Hornet Cutting, and more.
BEST DVD PRICE
Target
Best Buy
Fry's
$16.99
$16.99
N/A
Amazon – $15.99
BEST BLU-RAY PRICE*
Target
Best Buy
Fry's
$19.99
$19.99
$19.99
Amazon – $19.99
*Does not include 2-Disc Edition, which costs $24.99 at Best Buy and Amazon.
EXCLUSIVE DEAL:What? Exclusive 3D packaging on Blu-ray and 3D versions.Where? Best Buy.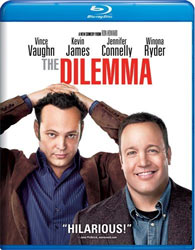 THE DILEMMA
Allan Loeb. Take note of that name. It will be popping up a lot over the next few years, and the chances of you being disappointed by a film will be a whole lot slimmer if you minimize your expectations whenever it does. The Dilemma is only one offense of many; Loeb is also responsible for the screenplays for Things We Lost in the Fire, 21, Wall Street: Money Never Sleeps, The Switch, and Just Go with It. The man is a Hollywood hack of the most irritating variety, reveling in contrived character drama, glib sentiment, lamely manufactured conflicts, and easy pathos. With the right cast and director, it's proven possible (however minimally) to overcome the inherent banality of his writing, as was achieved with Things We Lost in the Fire and The Switch. Ron Howard and the cast of The Dilemma don't fare as well. The film aspires to be a heartfelt, low-key, character-driven work that's balanced against a persistent sense of silly, accessible comedy, but it cripples itself right out of the gate with broadly-drawn characters and relationships, frustratingly easy-to-resolve mishaps, and a debilitating blandness that permeates every facet of the film not featuring Channing Tatum. Yes, you read that correctly; the least bland thing about The Dilemma is Channing Tatum. Surely that puts things into perspective.
Available on Blu-ray? Yes.Notable Extras: DVD – An alternate ending, 7 deleted scenes with introduction by director Ron Howard, a This is the Dilemma featurette, and a gag reel. Blu-ray – Includes everything on the DVD, as well as 7 additional deleted scenes, and 2 additional featurettes ("Tour Chicago", "On Ice").
BEST DVD PRICE
Target
Best Buy
Fry's
$17.99
$16.99
N/A
Amazon – $16.99
BEST BLU-RAY PRICE
Target
Best Buy
Fry's
$24.99
$19.99
$19.99
Amazon – $19.99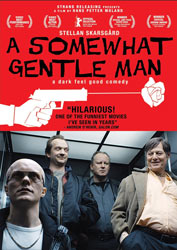 A SOMEWHAT GENTLE MAN
[Available on Netflix Watch Instantly]
Stellan Skarsgård stars as the titular "gentle man" in this deadpan dark comedy import from Norway. The film, about an aging killer coping with what remains of his life after 12 years in prison, has scored a number of positive reviews. Here's the trailer.
Available on Blu-ray? No.Notable Extras: N/A.
DVD PRICE
Amazon – $18.99
Other noteworthy DVD (and Blu-ray) releases this week...My Own Love Song – Being Human (Season 3)Noteworthy Blu-ray-specific releases this week...Fat Girl (Criterion Collection) – Smiles of a Summer Night (Criterion Collection) – From Dusk Till Dawn – What Dreams May Come

NOTES: Some deals may vary by store. Some deals may be in-store only. All deals are for DVDs unless otherwise noted.

Exclusive Retail: Mao's Last Dancer ($10 DVD, $17.99 Blu-ray).

$14.99 – Glee (Season 1), Weeds (Season 6), The Big Bang Theory (Season 3)