'Buck' Trailer: See The Life Of A Real-Life Horse (And Human) Whisperer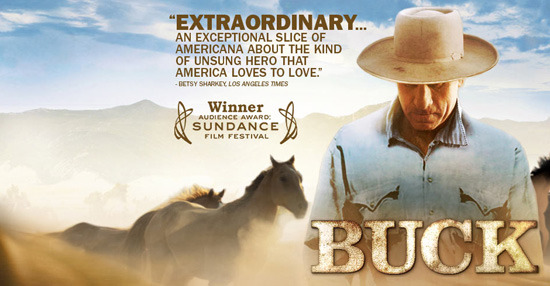 This is the kind of heartstring-puller that really gets me. Some people can be broken by movies about illness, or sports victories. But show me a story about someone working with animals, and doing it sensitively, and I might go to pieces. So it looks like I'll watch Buck on my own, to avoid embarassment.
This documentary won the Documentary Audience Award at Sundance this year, and it isn't difficult to imagine why. The trailer introduces Buck Brannaman and begins to show how the film traces his path through life, beginning with an abusive childhood, through to the point where he works with people and their horses. Or, as he says, "a lot of times, rather than helping people with horse problems, I'm helping horses with people problems." See the trailer below.
It's lines like this that get me, for some reason: "This horse tells me quite a bit about you." Beyond that, I'm always fascinated by people who have a seemingly preternatural ability to undersand and communicate with animals. Buck looks like it might offer a but of insight into the lines of communiation between human and horse. And Buck's mom has the best voice. I want her to narrate this movie.
Apple will teach you to canter, gently, in HD.
Your horse is a mirror to your soul, and sometimes you may not like what you see. Sometimes, you will." So says Buck Brannaman, a true American cowboy and sage on horseback who travels the country for nine grueling months a year helping horses with people problems. BUCK follows Brannaman from his abusive childhood to his phenomenally successful approach to horses. A real-life "horse-whisperer", he eschews the violence of his upbringing and teaches people to communicate with their horses through leadership and sensitivity, not punishment. Buck possesses near magical abilities as he dramatically transforms horses – and people – with his understanding, compassion and respect. In this film, the animal-human relationship becomes a metaphor for facing the daily challenges of life. A truly American story about an unsung hero, BUCK is about an ordinary man who has made an extraordinary life despite tremendous odds.