Will A Lawsuit Kill 'The Crow'?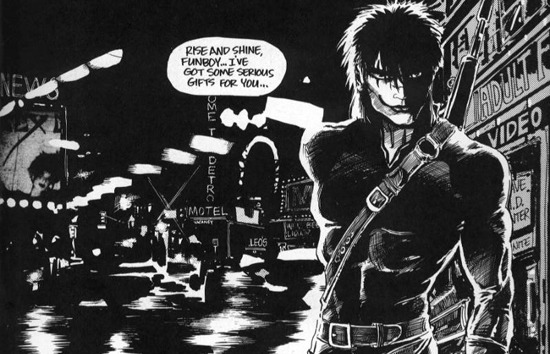 A battle is brewing over The Crow. Producer Edward R. Pressman has been working for over a year to assemble a new Crow film with Relativity Media. Of late, Bradley Cooper has been in early talks to star with Juan Carlos Fresnadillo directing.
But Harvey Weinstein has entered the picture, claiming that he has a contract "signed by everybody" that gives The Weinsteins worldwide distribution rights for The Crow. TWC has filed a lawsuit against Ryan Kavanaugh's Relativity Media to stop any attempt to see distribution rights to other parties. What effect will this have on the film?
Deadline is all giddy over the news, saying that the two companies have negotiated back and forth over the issue before TWC filed the lawsuit today. Bert Fields, legal rep for the Weinsteins, said,
Mr. Kavanaugh was not going to honor that contract. Apparently, he's going to sell these rights to others. He made a bunch of threats... Some people may submit to that kind of arrogant conduct, but we're not going to do it. If anybody tries to buy these distribution rights in The Crow, they are buying nothing but a lawsuit and they will get sued.
The better bit is that the Weinsteins don't have any explanation as to why Relativity thinks it has the rights to the film, nor does Deadline. We're just getting one side of the story here, so I expect there will be more statements to come.
What will be the effect on the film, which was planned for a fall shoot? In any normal situation the two companies would probably come to a deal and things would just move forward. This is one mega-producer against another, however, so I won't claim to know what other layers exist in this power play.
More than likely we'll still see a new Crow next year, but if that idea doesn't sound very appealing, this is your chance to hold out hope that the law will ground it.
Update: Relativity has issued the following statement:
This is yet another typical litigation stunt from the Weinsteins who have a long history of threatening law suits with the sole purpose of intimidation. If served, Relativity will seek immediate dismissal. While we expect these types of antics from the Weinsteins, we are shocked that a lawyer of Mr. Fields' caliber would make such false, reckless and intentionally harmful statements to the press about Relativity and Mr. Kavanaugh. We intend to seek appropriate remedies for this misconduct.
Clearly this is a feeble attempt to create a press stir and a malicious effort to interfere with Relativity's development of the project.