'Terri' Trailer – John C. Reilly And Creed Bratton Help 'Huge' Star Jacob Wysocki Come Of Age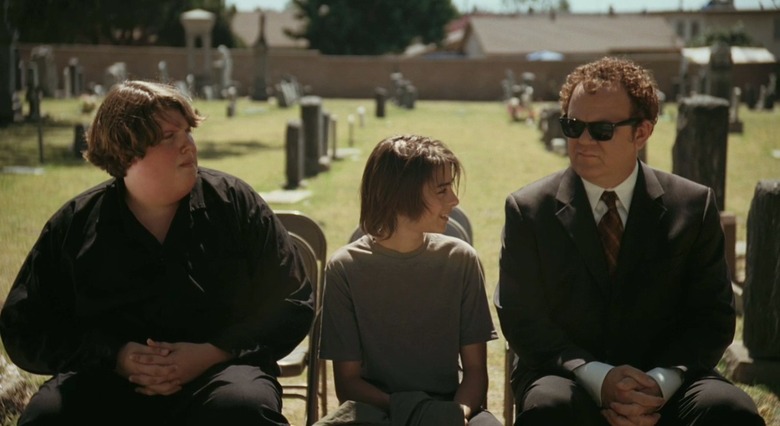 A new trailer has been released for Azazel Jacobs' Terri, an indie coming-of-age film that premiered at Sundance earlier this year. On that information alone, you could probably make a pretty good guess as to what the film's about: a high school outsider who learns to accept himself, thanks in part to the guidance of an offbeat mentor/authority figure. What sets Terri apart (somewhat) is an intriguing cast, which includes John C. Reilly and The Office's Creed Bratton. Jacob Wysocki, seen most recently on the beloved-but-cancelled series Huge, plays the titular teenage misfit. Watch the trailer after the jump.
[via TheMovieBox.Net and Collider]
Based on the trailer, Terri looks sweet, if not exactly original. It seems less aggressively quirky than other films of the subgenre (I'm looking at you, Napoleon Dynamite), and appears to focus more on realistic characters and relationships. Normally, I'd consider that a good thing — but Terri looks so familiar that I'm thinking a touch of weirdness could've been helped make it more memorable.
If I watch this film, it'll be for the acting. It's interesting to Bratton here, so far removed from his best-known role as Dunder Mifflin's resident weirdo, and Reilly is reliably enjoyable. Early reviews have also complimented Wysocki's performance as Terri.
Terri will hit theaters June 1, 2011.
Here's the synopsis:
Orphaned to an uncle who is ailing, mercilessly teased by his peers, and roundly ignored by his jaded teachers, Terri finds himself alienated and alone. But when the dreaded vice principal, Mr. Fitzgerald, sees a bit of himself in the boy, they establish a friendship that encourages Terri to consider the possibility that life is something to be shared, even enjoyed, not just endured.
Remaining true to himself in the face of adversity, Terri becomes an unlikely hero. Filled with heart and humor, Terri is a comedy about feeling alone, and discovering there are others who feel the same way.