Titles: Emma Roberts Film 'Homework' Now Called 'The Art Of Getting By;' Woody Allen's Next Called 'The Wrong Picture'?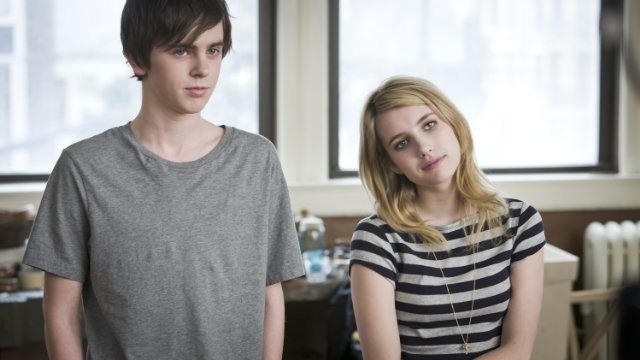 Woody Allen is notoriously shy about naming his movies, typically only doing so after writing the script, and sometimes picking a name far later in the process, like when the film has been shot. He has lately been prepping a film that will shoot in Rome this year, with a cast that includes Jesse Eisenberg, Penelope Cruz, Ellen Page and Alec Baldwin.
Now in an interview with Le Journal du dimanche, the director appears to say the name of the film is The Wrong Picture. That could be a working title, and we're waiting for confirmation. No plot details accompanied that revelation, but that is also standard operating procedure for the guy. What can we glean about the new film from the title? Not a whole lot at this point, but if he's letting the name slip now expect to hear more casting soon.
After the break, the Emma Roberts Sundance film Homework gets a new title.
Homework wasn't a Sundance sensation — it got mixed reviews, with younger audiences seeming to find more legit moments in the film than older critics — but it is locked into a June 17th limited opening from Fox Searchlight. The movie co-stars Michael Angarano, Elizabeth Reaser, Rita Wilson, Sam Robards and Blair Underwood.
But, possibly working from the theory that no one wants to see a film about homework in the summer movie schedule, the film is now called The Art of Getting By. That title is a little bland — I'd go with Homework, personally — especially given that the limited opening is against Green Lantern, Mr. Popper's Penguins and Bad Teacher.
Peter reviewed the film at Sundance, explaining the plot as,
...the story of George (played by former child star Freddie Highmore), a lonely underachieving teen who is about to fail high school in the end of his senior year. He is befriended by his crush, a girl named Sally, but he is unable to express his feelings for her. His parents are fighting, and he must complete a year's worth of homework in a two week period or face expulsion.
He went on to call it "your typical Sundance coming of age romantic drama," while lamenting a reliance on cliche even as he admitted that the film is accessible and pleasant, with natural performances.Those who can't find out for themselves during the limited opening weekend will get a chance in July, when the film goes out to more theaters. [Variety]