New Hi-Res Images From '30 Minutes Or Less'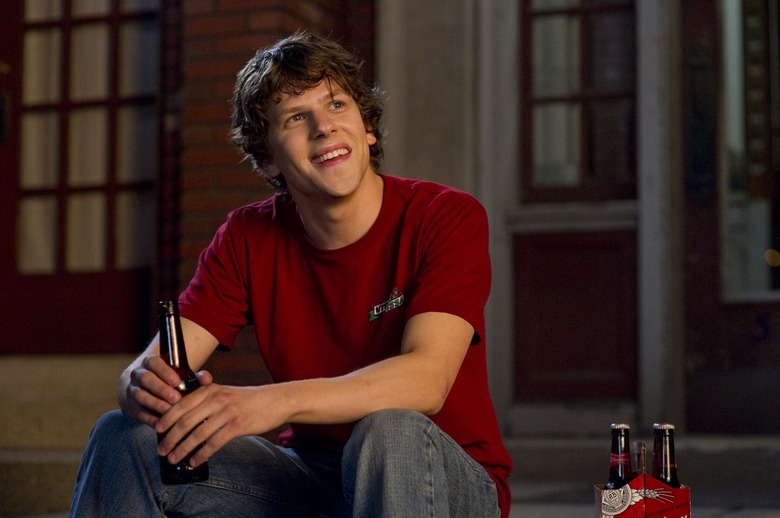 After summer movie audiences are bombarded for three straight months with superheros and sequels, it'll be nice to sit down for a few original laughs. 30 Minutes Or Less, written by first time screenwriter Michael Diliberti and directed by Ruben Fleischer, stars Danny McBride and Nick Swardson as wanna-be-criminals who kidnap a pizza-delivery guy, (Oscar-nominee Jesse Eisenberg) to help them rob bank. He then recruits his best friend, played by Aziz Ansari (Parks & Recreations) to assist in the caper. The premise, combined with that cast, seems like a winning combination and while most of us will have to wait until August 12 to find out for sure, for now we can look at some brand new images from the film.
Thanks to Collider for the heads up on these images.
Here's the official plot description of the film:
In the action-comedy 30 Minutes or Less, Nick (Jesse Eisenberg) is a small town pizza delivery guy whose mundane life collides with the big plans of two wanna-be criminal masterminds (Danny McBride and Nick Swardson).  The volatile duo kidnaps Nick and forces him to rob a bank.  With mere hours to pull off the impossible task, Nick enlists the help of his ex-best friend, Chet (Aziz Ansari).  As the clock ticks, the two must deal with the police, hired assassins, flamethrowers, and their own tumultuous relationship.
Sony, which is releasing the film, has Priest coming out in a few weeks and then Bad Teacher in mid-June. We'll probably get a first trailer somewhere in between then, if not sooner. Here's hoping 30 Minutes or Less has a good, R-rated sensibility and a little heart. If it has both of those things, it's got a shot at being something special.
When it comes to comedy this summer, where are you anticipating this film in relation to other original comedies like Horrible Bosses, Friends with Benefits or Bad Teacher?