Cannes: Competition Lineup Includes Films From Malick, Almodovar, Von Trier, Miike, Refn And More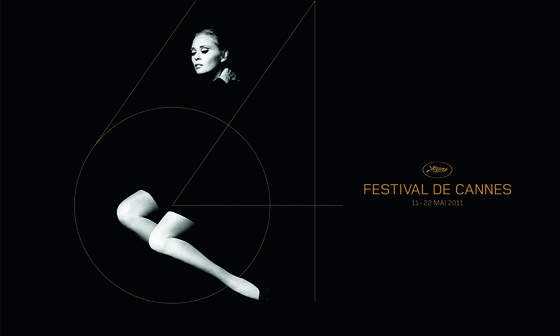 The nearly-full slate for the competitive schedules at this year's Cannes Film Festival has been announced, and while it isn't packed with many surprises, there is some great stuff premiering in France this May. We basically knew that Terrence Malick's The Tree of Life, Pedro Almodovar's The Skin That I Live In, Lars Von Trier's Melancholia, and Lynne Ramsay's We Need to Talk About Kevin would all be on the Croisette, so seeing those in the competition slate isn't a surprise. But it's nice to see Nicholas Winding Refn's Drive in there (FilmDistrict, give us a trailer, please!) along with Julia Leigh's Sleeping Beauty, Takashi Miike's remake of Harakiri (his 13 Assassins is also in some theaters, On Demand and on iTunes now, and is the best thing he's made in a while) and even Le Havre by Aki Kaurismaki.
In the Un Certain Regard category — a slate that highlights "original and different" films, with Emir Kusturica heading the jury this year — you'll find Gus Van Sant's Restless, Sundance fave Martha Marcy May Marlene by Sean Durkin, Erik Khoo's Tatsumi, and plenty more.
Out of competition premieres include Pirates of the Caribbean: On Stranger Tides and Kung-Fu Panda 2. There could be more selections announced for that particular slate in the coming weeks. Read more info and get the full list of films as it stands now, after the break.
This isn't quite the full lineup — three competition slots are still open, and will likely be filled by films that are finished right at the wire. One could be Alps, by Dogtooth director Yorgos Lanthimos, who was the hit of Un Certain Regard last year. David Cronenberg's A Dangerous Method isn't finished, and we can probably expect that to be a highlight at his hometown festival, TIFF, in September. Michael Haneke's Love also seems to be not ready at this point, and could possibly maybe end up in one of the open spots. Don't expect to see Wong Kar Wai's The Grandmasters, however, as he's a detail-oriented fiddler to match Terrence Malick, and the film is reportedly not close to done. Too bad about that, but I'm willing to wait.
Here's the lineup as it stands now.
In Competition:
"The Skin That I Live In" – Pedro Almodovar
"L'Apollonide"" – Betrand Bonello
"Footnote" – Joseph Cedar
"Paterre" – Alain Cavalier
"Once Upon A Time In Anatolia" – Nuri Bilge Ceylan
"The Kid With The Bike" – The Dardenne Brothers
"Le Havre" – Aki Kaurismaki
"Hanezu no Tsuki" – Naomi Kawase
"Sleeping Beauty" – Julia Leigh
"Tree of LIfe" – Terrence Malick
"La Source de Femmes" – Radu Mihaileanu
"Polisse" – Maïwenn Le Besco
"Harakiri" – Takashi Miike
"We Have A Pope" – Nanni Moretti
"Melancholia" – Lars Von Trier
"This Must Be The Place" – Paolo Sorrentino
"Drive" – Nicholas Winding Refn
"We Need To Talk About Kevin" – Lynne Ramsay
Un Certain Regard:
"Restless" – Gus Van Sant
"Martha Marcy May Marlene" – Sean Durkin
"The Hunter" – Bazur Bakuradze"
"Halt auf freier Strecke" – Andreas Dresen
"Skoonheid" – Oliver Hermanus
"Hors Satan" – Bruno Dumont
Les Neiges du Kilimandjaro" – Robert Guédiguian
"The Days He Arrives" – Hong Sang-Soo
"Bonsai" – Christian Jimenez
"Tatsumi" – Erik Khoo
"En maintenant, on va ou?" – Nadine Labaki
"Ariang" – Kim Ki Duk
"Loverboy"- C?t?lin Mitulescu
"Toomelah" – Ivan Sen
"Yellow Sea" – Na Hong-Jin
"Miss Bala" – Gerardo Naranjo
"L'exercice de l'Etat" – Pierre Schoeller
"Oslo, August 31st" Joachim Trier
"Travailler fatigue" – Juliana Rojas, Marco Dutra
Out of Competition:
"The Beaver" – Jodie Foster
"The Artist" – Michel Hazanavicius
"Pirates of the Caribbean: On Stranger Tides" – Rob Marshall
"La Conquete" – Xavier Durringer
"Kung Fu Panda 2: The Kaboom Of Doom" – Jennifer YuhSpecial Screenings:
"Labrador" – Frederikke Aspock
"Le maître des forges de l'enfer" – Rithy Panh
"Un documentaire sur Michel Petrucciani" – Michael Radford
"Tous au Larzac" – Christian Rouaud