Anthony Horowitz Writing Tintin Sequel 'Prisoners Of The Sun'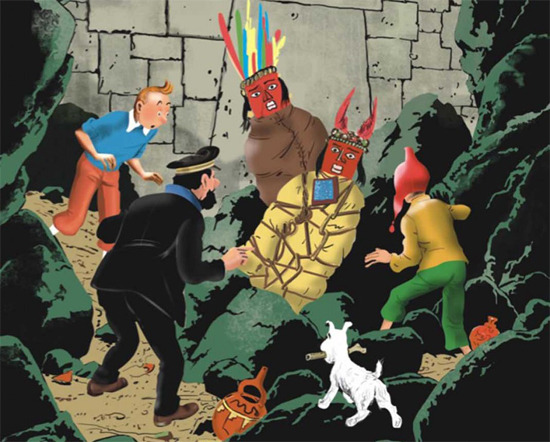 We may receive a commission on purchases made from links.
The first Tintin film, The Adventures of Tintin: Secret of the Unicorn, with actors being directed in motion capture by Steven Spielberg, who passed off that raw data to WETA to animate, is still quietly in production. The actors wrapped a year and a half ago, we don't see the film for several months, and there hasn't even been a trailer yet. (There have been some images, however.) But a second Tintin film is already in the works, and British writer Anthony Horowitz has now confirmed that he is writing a script based on Hergé's book Prisoners of the Sun, which he says Peter Jackson will direct.
The author told Radio 5 this week (via Bleeding Cool),
I'm writing a feature film even as we speak. I've been hired to write Tintin...
The Secret of the Unicorn is being directed by Steven Spielberg and was written originally by Steven Moffat, of course the writer of Doctor Who in this country. He did a couple of drafts then it was taken over by Edgar Wright... they've got [that] coming out at Christmas and if that film is a success and works and gets an audience I'm writing the sequel to it, Prisoners of the Sun, which Peter Jackson is going to direct.
The Spielberg/Jackson Tintin partnership was originally conceived as a way to do a couple films, but financing the first one turned into a tricky proposition. We still have no idea how the first film will play, but I'd be surprised if this sequel fails to happen. That said, if Peter Jackson is going to direct, the film won't happen for some time, as The Hobbit will be in the way.
Prisoners of the Sun is the fourteenth Tintin book by Hergé, published in 1949, and which has already been used as raw material for a film (Tintin and the Temple of the Sun) and other media.Amazon says,
After The Seven Crystal Balls set the eerie stage, Tintin and his friends continue their adventures in Peru. There Tintin rescues an orange-seller named Zorrino from being bullied, and the young man becomes their guide in their quest to find the Temple of the Sun. But they find more than they bargained for and end up in a hot spot. The perils of this engaging two-part adventure are especially harrowing in their combination of the supernatural and the real, although the resolution is a little too deus ex machina. Calculus and the Thompsons provide their usual comic relief.