First Clip From 'Mortal Kombat: Legacy,' Premieres April 12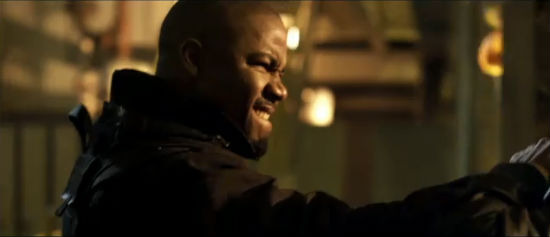 You might think I sound crazy, but I know I'm not the only one who gets chills when they think about the first time they saw the Mortal Kombat movie. The movie itself is largely disappointing, but after playing the games obsessively at local arcades – lining up quarters, practicing fatalities, etc. – finally sitting down in the theater and hearing the initial scream of "MORTAL KOMBAT," over the New Line logo, followed by The Immortals techno beats, was a very exciting moment. Unfortunately, it was a little too exciting and there was no way the film could ever live up to it. Why am telling you this? Because anytime there's a new Mortal Kombat property, I secretly hope that it'll match the energy of those 20 seconds of pre-credit perfection.
The next chance at that kind of immortality is Mortal Kombat: Legacy, an upcoming live action web series by Kevin Tancharoen that premieres April 12 on Machinima.com, starring Jeri Ryan and Michael Jai White. You can check out the first official clip (as well as the clip I mentioned, just for the hell of it) after the jump.
Thanks to Machinima for the clip which, if we're being honest, doesn't live up to the film's intro but comes pretty close. Check it out.
Thank god that factory had all of those guns laying around, am I right?
After the awesome short film Tancharoen did, which helped to spawn this show, plus the new game coming out April 19 for X-box 360, PS3 and more, Mortal Kombat seems poised to hit popular culture once again. I, for one, am all for it, simply because of this:
Here's the official press release for the show, which starts next week. Visit www.machinima.com for more info.
Warner Bros. Digital Distribution and Machinima.com announced they have signed an agreement to premiere and distribute the highly anticipated Mortal Kombat: Legacy live action digital series produced by Warner Premiere. Directed by Kevin Tancharoen (Fame), and starring Jeri Ryan (Star Trek: Voyager) as "Sonya Blade," Michael Jai White (The Dark Knight) as "Major Jackson 'Jax' Briggs" and Darren Shahlavi (300) as "Kano," this series will take gamers deep into the history of the warriors they know and love.
The first action-packed episode of Mortal Kombat: Legacy will debut April 12 exclusively on Machinima, the dominant entertainment network for videogamers on YouTube (YouTube.com/Machinima). Fans from around the world will be able to watch and engage with the entire Mortal Kombat: Legacy series through Machinima's YouTube channel.
"With over 500 million monthly video views and 50 million monthly viewers, Machinima has the world's most highly-engaged gaming audience, which makes this agreement with Warner Bros. such a great fit," said Allen DeBevoise, Chairman and CEO of Machinima, Inc. "Mortal Kombatis an epic franchise with a rich story and characters, we're truly excited to bring Mortal Kombat: Legacy to our community. With our global scale and reach, we can now drive greater engagement and viewership than anyone for entertainment properties that fit our young, male-centric demo. Kevin's new incarnation of the Mortal Kombat franchise is precisely the type of world-class, high-octane action content that our audience will love."
Kevin Tancharoen, who directed and produced the popular, unofficial Mortal Kombat: Rebirthfan short, is bringing the same immersive directing style to this live-action digital series. "Machinima is the perfect entertainment destination to premiere the series," said Kevin Tancharoen, Director, Producer and co-writer of Mortal Kombat: Legacy. "They have a massive audience of gamers from around the world. We worked very closely with NetherRealm Studios and Ed Boon, and we're now putting the finishing touches on the episodes. I'm confident we've stayed true to the Mortal Kombat lore and am hoping the fans will be blown away by what they see."
Also on April 12, in a lead up to the series premiere, Machinima will host Kevin Tancharoen and cast from the series in a special live event. Details will be announced on Machinima.com soon.
Written by Kevin Tancharoen, Aaron Helbing and Todd Helbing, Mortal Kombat: Legacy is an anthology of nine live action shorts, and brings to life the motivation behind each character's participation in the Mortal Kombat tournament. Each episode will provide never-before-revealed insights into characters featured in the upcoming videogame as well as the game's universe.
The latest iteration of the award-winning videogame, Mortal Kombat, marks a triumphant return to the series' mature presentation and a reinvention of its classic 2D fighting mechanic. Driven by an all new graphics engine, the fan favorite Fatality is back and presented in more gory detail than ever before. In addition, Mortal Kombat introduces a number of new game-play features including tag team and a deep story mode. Mortal Kombat is being developed by NetherRealm Studios, led by Mortal Kombat creator and creative director Ed Boon.