Lindsay Lohan May Play Sharon Tate; Tenuously Rumored For 'Superman' Role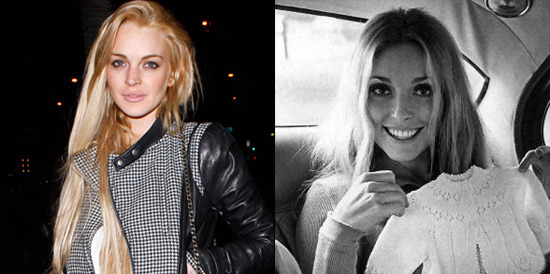 It's a shame that Lindsay Lohan's name is only linked of late to stunt casting in roles based on the lives of abused or damaged women. She was set to play Linda Lovelace for some time, and is now in talks to play the murdered actress Sharon Tate, who was one of the victims of the Manson Family. She'd be in a film about Charles Manson called Eyes of a Dreamer, which photographer Tyler Shields plans to make this summer.
The kicker is that, in keeping with the current mandate that there can never be only one film in development about a specific subject, this is just one of three Manson projects in development.
Quick rundown of the other Manson projects: we've already reported on The Family, which has True Blood's Ryan Kwanten set to play Charles Manson in a film that recounts Manson's life and the creation of his 'family.' Then there is The Dead Circus, which would be Adam Davenport's directorial debut and looks into the death of Bobby Fuller, who wrote the song 'I Fought the Law.' Melissa Leo would play a member of the Manson family who reveals that the family may have had something to do with the killing. James Marsden is set to play Charles Manson.
And now there is Eyes of a Dreamer, which Tyler Shields says will "go all the way" in recreating the murders of Sharon Tate and other family victims. He has photographed Lindsay Lohan in the past, and when he suggested she play Sharon Tate, she jumped at it. He told EW, "Sharon Tate was a movie star. So I want [an actress who] you already have a backstory with. People have a backstory with someone like Lindsay. And I think it's very relatable."
Of all the projects, this one sounds the most pointless — why, exactly, do we need to see the Manson murders recreated in detail again? But given that he plans to shoot by mid-July, it might not even happen, especially taking into consideration the fact that Lohan may have to stand trial soon for felony grand theft.
And then Radar is reporting that Lindsay Lohan will audition for an undisclosed role in Zack Snyder's Superman: The Man of Steel. Since this is just a report of a planned audition I wouldn't make too much of it. See again: the looming possibility of jail time or other legal entanglements.