/Filmcast Ep. 141 - Source Code (GUEST: Katey Rich From Cinema Blend)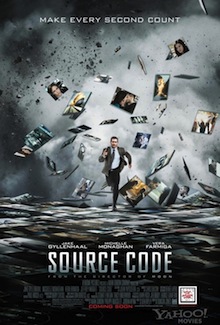 This week, Dave, Devindra, and Adam discuss the merits of Punch-Drunk Love, praise the over-the-top Hobo with a Shotgun, and try to unravel the mysteries of Source Code. Special guest Katey Rich joins us from Cinema Blend.
You can always e-mail us at slashfilmcast(AT)gmail(DOT)com, or call and leave a voicemail at 781-583-1993. Join us for our next live broadcast on Sunday, April 10th at Slashfilm's live page where we'll be discussing Hanna.
Download or Play Now in your Browser:
Shownotes
Introduction
(00:40) Katey Rich from CinemaBlend joins us!
What We've Been Watching
Katey Rich (03:50): Cinemacon
David Chen (11:03): Super, Born to Be Wild 3D, Vertical Limit, Justified (Season 2)
Devindra (24:20): Hobo with a Shotgun, Mesrine: Public Enemy #1, Limitless
Adam (35:50): Punch-Drunk Love, The Cable Guy
News Discussion
(46:05) Green Lantern Wondercon footage
(56:13) Justice League Movie in 2013?
Featured Review
(1:03:45) Source Code
Credits
A big thanks to our sponsor, Audible. You can get a free audio book by going to audiblepodcast.com/filmcast.
Our music sometimes comes from Point 22 courtesy of the Podsafe Network, and Brad Sucks
If you'd like advertise with us or sponsor us, please e-mail slashfilmcast@gmail.com.
Contact us at our voicemail number: 781-583-1993
You can donate and support the /Filmcast by going to www.slashfilmcast.com and clicking on the left-hand side "Donate" links! Thanks to all our donors this week!