Five New 'Immortals' Posters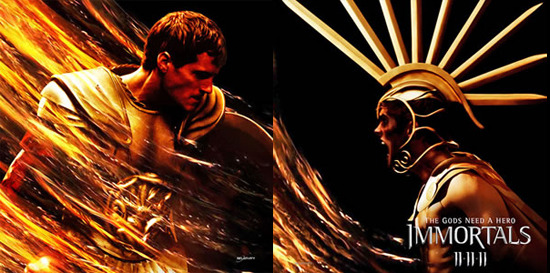 There are five new character posters for Tarsem's Immortals, which tells a very Clash of the Titans-style story. These images dramatically play up the sort of imagery that became the accepted mainstream way of envisioning burly ancient warriors thanks to 300, but if you look at the actual stills for the film you'll see the style is a lot more restrained. Tarsem's strength has always been his visual sense — even when he was egregiously borrowing from other artists, so I'm hoping these posters are merely a ploy to capture the attention of an audience the studio thinks is attuned to 300.
Fandango presented the images, so thanks to them. Henry Cavill (Superman) as Theseus; Luke Evans as Zeus; Kellan Lutz as Poseidon; Daniel Sharman as Ares; and Isabel Lucas as Athena. The film opens, in case you missed the dagger-like date on each sheet, on November 11 of this year.
The official synopsis:
In Immortals, the ruthless King Hyperion (Rourke) leads his bloodthirsty army on a murderous rampage across Greece to find a deadly weapon that will destroy humanity. A mortal chosen by Zeus named Theseus (Cavill) must lead the fight against Hyperion and his evil army with the fate of mankind and the Gods at stake.