Weinstein's Developing 'Finding Neverland,' 'Crouching Tiger, Hidden Dragon' And Others For Broadway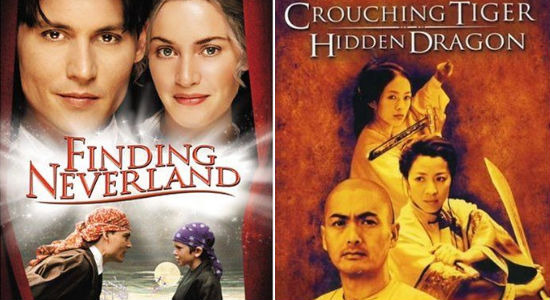 Has Spider-Man: Turn off the Dark taught us nothing? Sure, the show making money (for now) but one would think all of the negative reactions would make producers wary of adapting popular properties that need extensive wire work for the stage. Not Bob and Harvey Weinstein. The New York Observer reports the pair are actively developing musicals based upon Finding Neverland, Chocolat, Cinema Paradiso and Crouching Tiger, Hidden Dragon. The furthest along is Finding Neverland, which already has music written by Grey Gardens team Scott Frankel and Michael Korie and investors lining up. The 2004 film was directed by Marc Forster and starred Johnny Depp as J.M. Barrie, the man who created Peter Pan. Read more after the break.
The New York Observer reports they got wind of these shows when Hollywood premiere planner Peggy Siegal sent out an invitation to potential investors to hear a reading of the Finding Neverland, including the songs.Peter Pan has a very rich history as a musical, both on stage and on screen, so adapting the origin of the story itself makes sense in a weird way. Finding Neverland was not a particularly extravagant film, though, and one would assume when mining the Peter Pan character, you'd be remiss not to incorporate some of his more theatrical traits: flying, etc.Chocolat and Cinema Paradiso are simple, heart-warming stories that – I guess – lend themselves to the stage. Crouching Tiger, Hidden Dragon fits into that mold too but considering how pricey and complicated flying fights were for the team from Spider-Man (and that's a well-known property with a built-in audience) it doesn't seem like a smart business decision to employ the same tricks for the Ang Lee Oscar winner.
Do you think any of these productions will make it to the stage? And are you a little disheartened that, even on Broadway, originality is dead?