Greg Mottola To Direct Aaron Sorkin's New HBO Pilot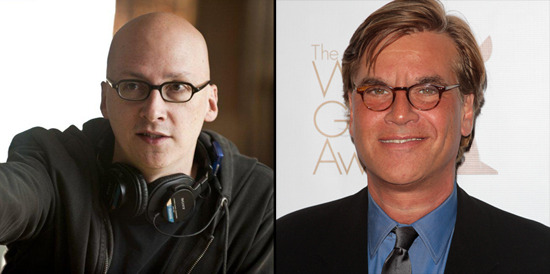 Here's a pretty wild collection of talent: Greg Mottola, director of Superbad, Adventureland and Paul, will direct the new HBO pilot that Aaron Sorkin is assembling starring Jeff Daniels as a new cable network political commentator.
Variety reports the hire, and says that the show, which is currently untitled, "examines the behind-the-scenes look at a cable news network with Jeff Daniels in negotiations to star as the host of his own political show who, from the network perspective, can be difficult to handle." Aaron Sorkin reportedly shadowed existing cable news stars like Keith Olbermann and Chris Matthews to chart how their days work. This will be his second stab at a 'behind the scenes' TV show subject, after Studio 60 on the Sunset Strip. That show ran one season during the '06/'07 season and covered the workings of a sketch comedy show.
I think of Greg Mottola as having a slightly more laid-back style than what an Aaron Sorkin script might demand, but he has already directed shows like Arrested Development and Undeclared, and the former should indicate that he can tackle the sort of script-heavy TV that Aaron Sorkin is likely to create.
Speaking of Aaron Sorkin and Studio 60, which failed while the similar show 30 Rock found success during the same season (and on the same network), check out the following clips of his appearance on 30 Rock from last week. The writer/producer is often tagged as a guy without much of a sense of humor, but this is as an effective a parody of the Sorkin Style ™ as you're likely to find, and he's front and center. Great stuff. And yes, there's a Studio 60 dig in there.
The first clip is from the episode, while the second is a behind the scenes thing. Sorry that they're both Hulu, and therefore US only, but that's what we've got for embeds.
After the guest sequence ends, that 30 Rock episode also has a nice little dig at studio tentpoles in the form of a Transformers 5 poster that proclaims 'written by no one!'