Uma Thurman Calls Tarantino's Next A 'Southern'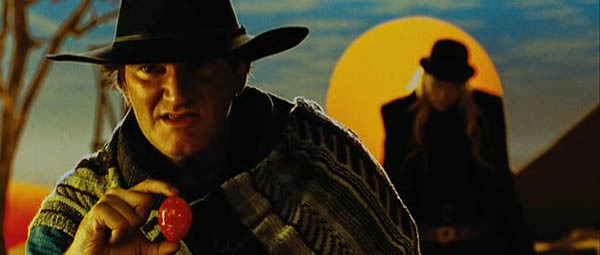 Last month there was exciting word that Quentin Tarantino has a script nearly ready to go for a new film, and that it would be in the style of the spaghetti western, and feature Christoph Waltz.
Now while promoting her new film Ceremony, Tarantino muse Uma Thurman has talked briefly about the script and her comments seem to confirm assumptions about the nature of the new script.
Speaking to Hollywood Outbreak, she said that she "think[s] Kill Bill lives down the road," because he's got this other script percolating. Specifically, while instructing the interviewer to direct questions about the script to Mr. Tarantino, she says,
I think he has a script ready to start of a new film, a 'Southern.' I think it's really exciting. It's another new story and a fresh piece of material that he is channeling at the moment.
Note that 'a Southern' isn't the title of the film, but the genre, an obvious play on 'western.' Because QT said several years ago,
I want to explore something that really hasn't been done. I want to do movies that deal with America's horrible past with slavery and stuff but do them like spaghetti westerns, not like big issue movies. I want to do them like they're genre films, but they deal with everything that America has never dealt with because it's ashamed of it, and other countries don't really deal with because they don't feel they have the right to.
When word of this new script started to go around, we quickly leapt to the conclusion that the film described above is what is is working on, and Uma Thurman's description of the film as a 'southern' certainly suggests as much. Whatever it is, a new Quentin Tarantino film will be an event. As will likely be the case for a long time this also reminds us of the sad passing of his editor, Sally Menke, and I'm very interested to see who he picks to work in her stead for this new film.