Mila Kunis Officially Going To 'Oz, The Great And Powerful' As Theodora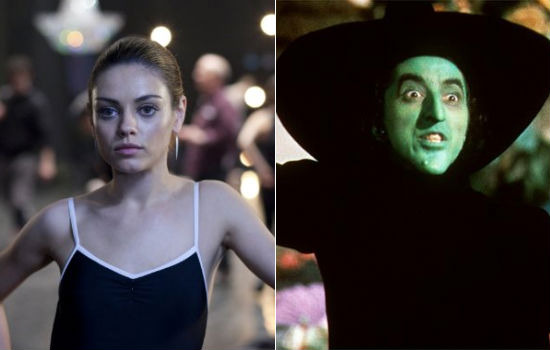 Walking the Oscar red carpet last month, Mila Kunis was very wishy washy on whether or not she'd be co-starring with James Franco in director Sam Raimi's prequel to The Wizard of Oz, Oz, The Great and Powerful. She can now give a definitive answer. The Black Swan star will, in fact, star in the film, portraying Theodora, the youngest and most important of three witches battling for control of Oz. According to Variety, actresses such as Olivia Wilde, Amy Adams, Kate Beckinsale, Keira Knightley and Rebecca Hall are being considered for the other two sisters. Read more about how those characters fit into the film and other fun stuff after the break.
In the Variety story, they describe the plot as follows:
Kunis will co-star opposite James Franco, who portrays a fast-talking snake oil salesman and illusionist who flees a traveling circus and winds up whisked away in a hot air balloon by a tornado to Oz where he must face off against real magic and the sisters battling for control of the land. Theodora starts out as a good witch, alongside her beautiful sister Glinda, but after her sexual advances are jilted by Franco's salesman, she's convinced by Evanora to switch sides and help her older sister rule Oz.
It sounds very much like Kunis's role was the one to get, being as she seems to have the fullest arc as opposed to her other two sisters. Plus, seeing as Oz, The Great and Powerful is a prequel to The Wizard of Oz, it's safe to assume one of the sisters dies. Which one is it? Well Gilinda becomes the Good Witch of the North, and, according to Wikipedia, The Wicked Witch of the West's name is actually Theodora. Kunis's role was definitely the one to get as not only does she survive and get to be sexy, she goes from good to incredibly evil.
How do you feel about Kunis playing a good girl who eventually becomes one of the most iconic and evil villains of all time? Do you believe Raimi has something truly special up his sleeve for this one?