'American Reunion' Plot Details Revealed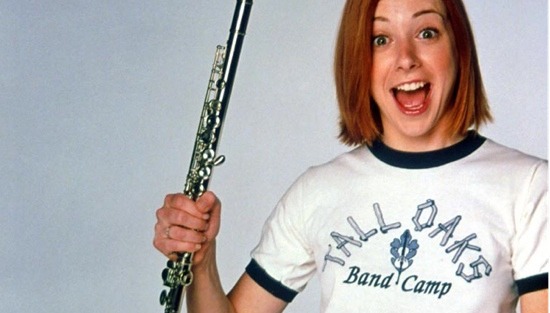 It's been a couple years since we first reported that Universal was eyeing another slice of American Pie (yup, I said it), and it looks like the film, titled American Reunion, is finally coming together. It was announced last week that Jason Biggs, Eugene Levy and Seann William Scott had already signed deals with Universal, and that most of the rest of the original cast were in talks. And now, a few plot details have been revealed. Check them out after the jump.
The film will center around the gang's ten-year high school reunion.
Oz (Chris Klein) is a big shot with a Malibu mansion and a girlfriend who seems to be a gold-digger.
Heather (Mena Suvari) is dating a middle-aged surgeon who tries to act younger than his age.
Stifler's (Seann William Scott) life has gone down the drain — he's unhappily working as a temp, and isn't getting laid much. He avoids going to the reunion. At one point, he sleeps with Laurie, a "former hottie" who's gained weight.
Finch (Eddie Kaye Thomas) is an "international traveler" and will be scoring with Trish, a bartender who used to go to band camp with Michelle.
Stifler's Mom (Jennifer Coolidge), the original MILF, will be making an appearance.
Jim (Jason Biggs) is still married to Michelle (Alyson Hannigan), but his next-door neighbor has a crush on him — and her long-term boyfriend isn't happy about it. Meanwhile, his sex tape with Nadia (Shannon Elizabeth) has gone viral on YouTube.
What's Playing also says that the storyline is "very funny" and "seems to embody the heart that was present in the first film but missing in the sequels."
Though American Reunion will be the fourth film featuring the characters from the original movie, it'll actually be the eighth film in the overall series. After the first two sequels, American Pie 2 and American Wedding, the franchise produced four ill-received direct-to-DVD sequels featuring new characters.
The idea of a fourth American Pie struck me as totally unnecessary at first, but as we're hearing more news I'm actually starting to look forward to seeing the gang again. Particularly if the new film can recapture what was so great about the first one — humor and raunch, but also genuine warmth and an understanding of where these characters were at this place in their lives. Based on the plot outline, it sounds like the potential is definitely there.
Discuss: Are you excited for the new film? Which character are you most looking forward to seeing again? Did anyone else notice that Kevin (Thomas Ian Nichols) and Vicky (Tara Reid) were unaccounted for in the plot summary?