Watch Keira Knightley In A Sexy Chanel Ad Directed By Joe Wright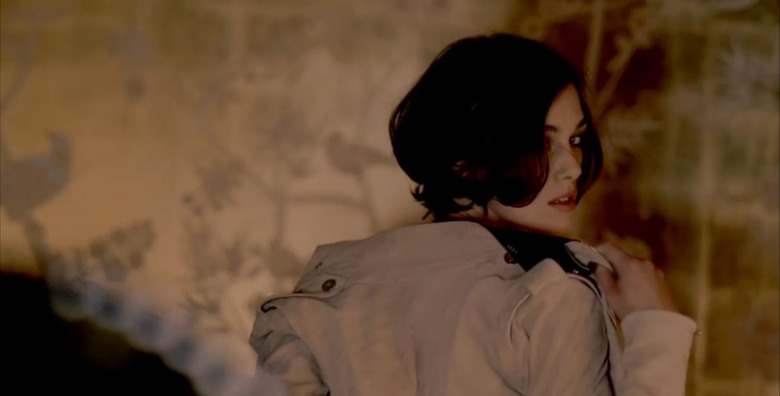 Another day, another high-end fragrance ad shot by a famous director and featuring a famous movie star. (Seriously, there are so many of these.) This time, it's Atonement helmer Joe Wright directing a Chanel Coco Mademoiselle ad in which Chanel spokesmodel / actress Keira Knightley dons a sexy beige jumpsuit, rides around Paris on a motorcycle, and strings along a handsome photographer — all while wearing the Coco Mademoiselle scent, of course. Watch it after the jump.
[via Movieline]
It's a fragrance commercial, so of course it's highly stylized and totally beautiful and bears no passing remblance to reality. But it is pretty steamy, non? Knightley as an actress has sometimes left me cold, but here she looks playful, seductive, and all around badass. I'm not loving Joss Stone's cover of "It's a Man's Man's Man's World," but hey, at least it's better than the Glee version. Wright has said of the ad, "What we tried to do was turn it round, so that it begins as a story about the male gaze, but becomes about the female gaze. The idea is the artifice of projected sexuality" — which I suppose helps explain the song choice.
This ad marks the second time that Wright and Knightley have collaborated on a Chanel Coco Mademoiselle spot. Back in 2007, they shot this one, in which Knightley runs about town in a slinky red dress reminiscent of that famous green one from Atonement. (That one, too, was set to a cover by Joss Stone — in that case, "L-O-V-E.") Wright and Knightley have also worked together on 2005's Pride and Prejudice, 2007's Atonement, and this 2009 anti-domestic violence ad for Women's Aid.
Wright's next film is Hanna, which reunites him with another Atonement actress, Saoirse Ronan. Knightley will next appear in Last Night, due out this spring.