Watch The Short Film 'Blinky,' In Which A Small Robot Goes Slightly Out Of Control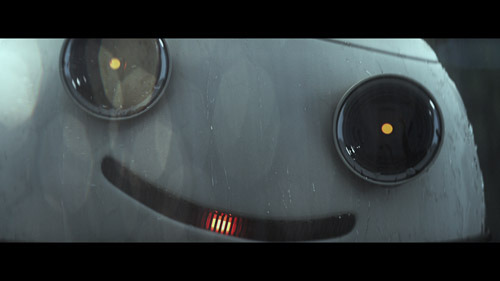 We don't often cover short films for over a year in advance, but Ruairi Robinson made the great short The Silent City and was attached to the live-action Akira remake, so when concept video cropped up for a new film of his in late 2009, we noticed. That film turns out to be the short Blinky, starring Max Records (Where the Wild Things Are) as a kid whose family has some problems. He gets the latest robot family helper, Blinky, for Chrismas, but that doesn't solve all his issues. In fact, it doesn't solve any of them. The full short is after the break.
There was a great sense of encroaching dread in the teaser for Blinky, and there's a point halfway through the short when you realize how things are going to go down, and why, that really acts as the proper culmination of that dread. As a character, Blinky makes a good little fulcrum for the problems in the kid's life. He's dropped into the world with what looks like a mixture of puppetry and CGI, and the tech works quite well. I do wish the few scenes with Max's parents were a bit stronger, because that would make Max's situation, and the eventual outcome, much more powerful.