/Film Talks To Simon Pegg And Nick Frost About 'Paul'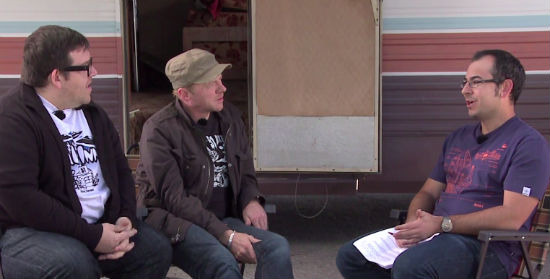 If you love movies, you could sit and talk with Simon Pegg and Nick Frost for hours. They're such cool guys and just like us: Humongous movie fans who eat, sleep and breath the art of film. The only difference is that Pegg and Frost just so happen to make movies as well and their latest film, Paul, is yet another love letter to the movies. It follows two British nerds who travel to America for San Diego Comic Con and to visit various alien-themed landmarks. Along the way, they run into a crass, escaped actual alien named Paul and join him on a heartfelt journey filled with references to sci-fi films of the past.
Last week, I was given ten short minutes to speak to Pegg and Frost at one of the venues that not only influenced their film, but makes an appearance in it as well. About three hours outside of Las Vegas resides The Little A'Le'Inn, a tiny restaurant on the doorstep of Area 51 where Pegg and Frost stopped as they were doing research for the movie. There we spoke to Greg Mottola, the director of the film, as well as the co-stars and co-writers, who discussed the film, its references, Carl Weathers (!?) and got super geeky discussing internet spoilers, collectibles and even The Phantom Menace in 3D. Check out the video after the jump.
And don't forget to watch our interview with Greg Mottola by clicking here.
Paul, directed by Greg Mottola (Superbad, Adventureland) and written by Simon Pegg and Nick Frost (Shaun of the Dead, Hot Fuzz) also stars Pegg and Frost along with Kristen Wiig, Bill Hader, Jason Bateman, Jane Lynch, Sigourney Weaver and Seth Rogen as Paul. It opens on March 18. Watch the trailer here.