Derek Luke's 'Captain America' Role Revealed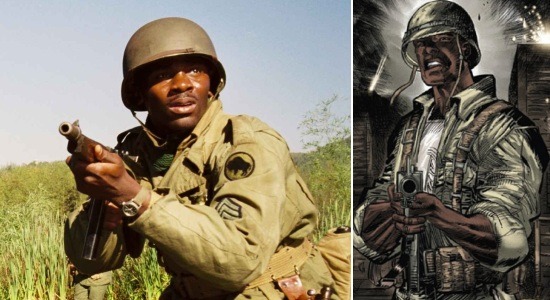 It's been known for a while that Derek Luke had been cast in Captain America: The First Avenger, but it was unclear what role he'd be playing — until now. It's recently been revealed that Luke will be playing the part of Gabe Jones, part of the elite WWII Howling Commandos squadron. Read more after the jump.
Of course, we don't know at this point how much of Jones' comic history will make it into the film, or what Marvel's plans for the character will be in future films. What we do know is that Captain America will cross paths with the Howling Commandos at some point in the movie.
Luke began his feature film career in 2002 with the title role in Denzel Washington's Antwone Fisher. More recently, he's appeared in Spike Lee's Miracle at St. Anna as an American soldier and the Notorious B.I.G. biopic Notorious as Sean "Puff Daddy" Combs.
In addition to Luke, Captain America also features Chris Evans, Tommy Lee Jones, Hugo Weaving, Hayley Atwell, Sebastian Stan, Dominic Cooper, Toby Jones, Neal McDonough and Stanley Tucci. The film is being directed by Joe Johnston (Honey, I Shrunk the Kids, The Wolfman) from a screenplay by Christopher Markus and Stephen McFeely.
Captain America: The First Avenger is one of three Marvel films opening this summer, the other two being Thor (May 6) and X-Men: First Class (June 3). Evans will be reprising his role as Captain America in 2012's The Avengers.
Here's the official synopsis for Captain America: The First Avenger:
Captain America: The First Avenger" will focus on the early days of the Marvel Universe when Steve Rogers (Chris Evans) volunteers to participate in an experimental program that turns him into the Super Soldier known as Captain America. As Captain America, Rogers joins forces with Bucky Barnes (Sebastian Stan) and Peggy Carter (Hayley Atwell) to wage war on the evil HYDRA organization, led by the villainous Red Skull (Hugo Weaving.)