New 'Star Tours: The Adventures Continue' Concept Art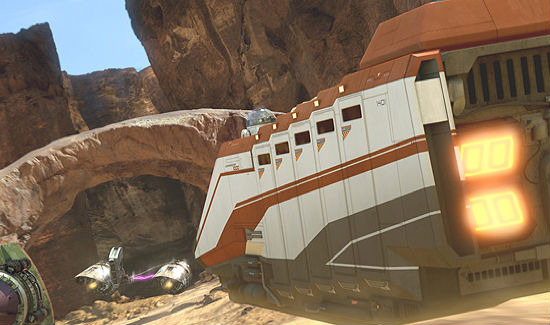 The updated version of Star Tours, Star Tours: The Adventures Continue, opens on May 20 at Walt Disney World in Florida and June 3 at Disneyland in California. It's a total and utter revamp of the previously dated ride, from the exterior structure where you wait on line to 54 different full-on, immersive 3D Star Wars adventures featuring characters both new and old. A few new photos have popped on line giving us an idea of what to expect this summer and we've got them below, plus links to all the previous stories we've ran on the ride.
Thanks to both the Star Tours: The Adventures Continue official page and Stitch Kingdom for these images. One is huge and one is small.
As you can tell, this shows that one of the adventures is a pod race from Star Wars Episode I: The Phantom Menace while another is a chase by Slave One, through an asteroid field, in Star Wars Episode II: Attack of the Clones.
Here's the official description:
Climb in to the Starspeeder 1000 with old friends C-3PO and R2-D2, along with new additions Star Tours Pilot "Ace" AC-38 and Spokesbot Aly San San. When you board, several different journeys await. You might take flight in a Tatooine podrace or weave through the city planet of Coruscant. You could find yourself on the run from Boba Fett or meeting Princess Leia. You'll never know which characters and worlds you will encounter. But, Beware! Darth Vader could attempt to create a disturbance in the Force. A showdown may be inevitable. Hopefully, the Force will be with you.
We've done a ton of coverage on the ride all ready, so check out these links:
Are you going to head to Disney on opening day for these? Or will you wait it out?