Aubrey Plaza Joined By Alia Shawkat, Donald Glover & Andy Samberg In 'The Hand Job'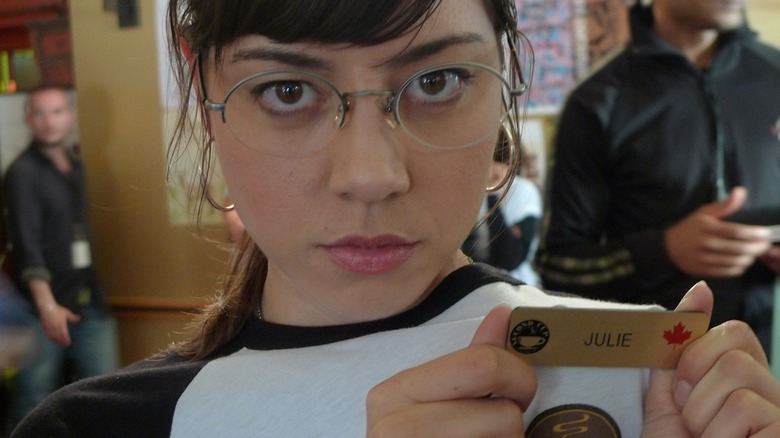 Bill Hader has a whole hell of a lot going on lately. We detailed two of his upcoming projects last night — Henchmen and Vaughn Meader — but there are more.
One is The Hand Job, a film that is being spearheaded by his wife Maggie Carey. She wrote the script, which ended up on the 2009 Black List, and plans to direct with star Aubrey Plaza (Parks and Recreation, Funny People, Scott Pilgrim) as a graduating high school girl in 1993 who wants to gather some sexual experience before going off to college. There are now quite a few more actors lined up, including Alia Shawkat, Mae Whitman, Donald Glover and Andy Samberg. More details after the break.
The Playlist and Collider both got the info, in which Bill Hader says that the script was written with Aubrey Plaza in mind.
It's about her playing an type-A, studious girl who graduates high school and hasn't done anything with a guy. The summer before college she decides that she has to find out how to do everything in order to be properly prepared, so she makes a very serious bullet list of everything, like... handjob, titty-fuck, blow-job, fingering, and just kinda checks one off every time she does it. She's being the aggressor and is very straight-forward about it, like 'Okay, so I'm going to give you a hand-job now.' And the guys are very taken aback about it, especially her straight-laced friends.
The full cast that is currently lined up includes Andy Samberg, Alia Shawkat (Arrested Development), Mae Whitman (Scott Pilgrim), Donald Glover (Community), Johnny Simmons (Scott Pilgrim), and Connie Britton (Friday Night Lights).
Last time we talked about the project, Aubrey Plaza was the only real attached cast, but she had participated in a readthrough of the script at the Austin Film Festival which reportedly went over very well. Aubrey Plaza sounds perfect for the role (natch, if it was written for her) and the rest of the cast now attached only adds to the appeal.