Guillermo Del Toro Speaks Out On 'At The Mountains Of Madness' Controversy; 'Pacific Rim' To Be Released Summer 2013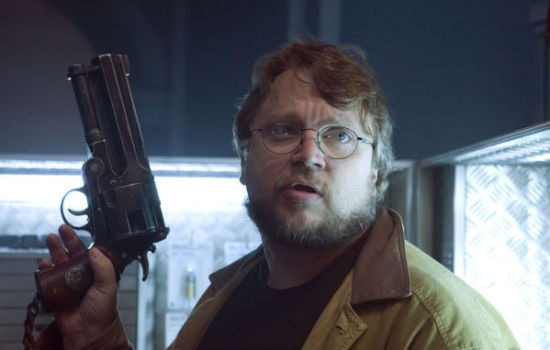 On Monday, already way-too-busy director Guillermo Del Toro went from making a film he'd been prepping for months to a whole other movie in what seemed like mere minutes. The James Cameron-produced adaptation of the H.P. Lovecraft story At the Mountains of Madness had been Del Toro's focus for a while and just as Universal was about to turn on the greenlight, the film got postponed and Del Toro quickly committed to directing Pacific Rim, a monster movie for Legendary Pictures. That movie is now set for a Summer 2013 release, but Del Toro's switch set off a firestorm of speculation and controversy across the internet. What happened exactly? The director of Pan's Labyrinth and Hellboy broke his radio silence in an interview with Deadline and we've got the highlights below as well as a press release on Pacific Rim.
Deadline's interview with Del Toro is long, extensive and frank. It would be a sin to just copy and paste the whole thing here so, we've grabbed three highlights, and urge you to head over there to read the whole thing.
On what happened at Universal that killed At the Mountain of Madness:
You may think I'm being glib, but I don't know. Since the day of the decision, I haven't had a face to face with [Universal executives]. We've exchanged a few phone calls. I my mind, we were given the parameters of a budget and screenplay, and I was given the chance by the studio to create a visual presentation. They were blown away by the visual presentation, they openly admitted to loving the screenplay, saying it was dead on. And we hit the target on the budget they gave us, not a figure I arrived at. This came after months and months of story boarding, haggling with VFX companies, and bringing down the budget number. The week before the decision, I was scouting in the border of Canada and Alaska. We were a week away from opening offices in Toronto. We were crewed up, and frankly, I am as puzzled as most people are. One of the biggest, biggest points for me with this movie was the scope and the R, going hand in hand.
On why committing to a rating before shooting is a deal breaker for him:
Ultimately, I think the MPAA could rule [At the Mountains of Madness] a PG-13 because the movie and the book are not gory. If that is the outcome, fine. But I don't want to put the PG-13 on paper, for one reason. We created Don't Be Afraid of the Dark, thinking we would be safe looking for PG-13 because we had no profanity, no sex, no gore, but we made a very intense movie in a very classical mold. And the MPAA gave it an R. They said the movie was too intense for a PG-13. The only think I know about Mountains is, I do not want it to be bloody, I do not want it to be crass, but I want it to be as intense as possible.  And those discussions were had in the open. Everyone knew this was my position, that I knew I was asking the chance for the movie to be what it needs to be. I don't think it's a good idea to relinquish that on paper.
And on what excites him about Pacific Rim and getting back behind the camera:
I can only say I was very happy to be able to develop it under the radar in many ways. People got it confused with the Godzilla movie a few months ago but we cleared that up. I can say the scope and imagination that have been outlined in it are absolutely appealing to me. I cannot say more, it's not the time.
The idea is unequivocally to start shooting in September. The terms of that will become public very soon, but the idea is to get behind the camera this year. I miss it terribly. Unfortunately for me, I have passed discreetly on a number of high profile projects last year in order to save myself for a project that I've been shepherding. That was Mountains, and now it seems like it's going to be Pacific Rim. In both instances, these are projects I am generating.
Head back over to Deadline to read more from Del Toro including passing on several well-known projects, Tom Cruise's involvement with the film (which could still happen in the future), the amount Madness would have had to make to be profitable and his thoughts on if a movie like At the Mountain of Madness can actually be made in today's society.
As for Pacific Rim, here's a press release on that production confirming a few details:
Legendary Pictures announced today that Guillermo del Toro is directing the company's upcoming feature, Pacific Rim, confirmed as his next film. The film has already entered pre-production and will begin principal photography in September 2011. Pacific Rim will be released during summer 2013 and will be produced by Thomas Tull and Jon Jashni for Legendary Pictures and Guillermo del Toro.
Stated Guillermo del Toro: "We started developing PAC RIM a while ago with the mad passion and enthusiasm of a project unwatched and unchecked by politics or comparisons. We designed and shepherded the movie we want to make. We start shooting in September and we hit the ground running because we are so in sync. My partnership with Legendary represents, both in scale and creative demands, a huge step forward for me."