'Things Fall Apart' Trailer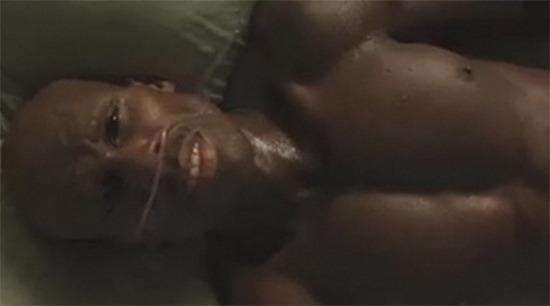 Last year Curtis '50 Cent' Jackson took the low road to being taken seriously as an actor. No, not acting! That would be taking the high road. He lost a hell of a lot of weight and shaved his head to play a college football player stricken by cancer. The movie is Things Fall Apart, directed by and c0-starring Mario Van Peebles. Now there is an 'unofficial' trailer for the film, which looks like no more than a rough sales trailer. But even the best trailer ever cut might not be able to make this look like anything but an unintentional howler.
I understand that 50's massive wig in the early scenes is there to make his post-illness visage more stark, but it is also the first of many things that look wildly out of place. The Room's Tommy Wiseau might have come up with a more convincing hospital than the one seen here. Ray Liotta — poor Ray Liotta — plays a doctor who has to supply the harsh realism to pump up the movie's emotion. And this may be the worst trailervoice in some time, as it intones "...until life got in the way."
It's great, too, that the trailer calls this the most critically-acclaimed role of Curtis Jackson's career...given that the only critics to see Things Fall Apart were those who attended the Miami Film Festival last weekend. The major trades don't even seem to have filed reviews. But, hey: optimism!
Here's the synopsis, which is almost more hilarious than the trailer:
DEON BARNES (Curtis "50 Cent" Jackson) is a college running back with a fierce combination of blazing speed and stunning power. His mom BEE (Lynn Whitfield) works double shifts as a bartender, and when Deon's on TV, the bar is packed with supporters. Family friend ERIC (Mario Van Peebles) has always been there to support Bee and to mentor Deon. Deon's brother Sean is also a college student, a hard worker who pays for his college education with the help of financial aid and a full time job at a car dealership.
Deon gets along with Sean, unaware of the resentment Sean feels towards him. Sean works hard to make good grades, and Deon works hard to become an NFL draft pick. Deon is the big man on campus, likes to party, and has his pick of beautiful co-eds. Sean has a crush on Sharon, a pretty co-ed, but somehow she ends up with Deon.
Needing a win to secure a berth in the Post-season, Deon hoists the team on his back and carries them to victory. But the celebration is short lived. He collapses in the locker room and wakes up in the hospital, where he learns he has cancer. DR. BRINSTALL (Ray Liotta) tells him and his family that he will probably never play football again.
Eric conspires to keep Deon's disease a secret from the NFL Scouts. Deon, his dreams crushed, undergoes chemotherapy treatment, shedding nearly eighty pounds of muscle and leaving him weak, almost helpless. He returns to school a shadow of his former self, emaciated and unrecognizable. Sharon stands by Deon, but finds herself growing close to Sean. One night while studying, Sean tells her the truth– the only reason Deon ever approached her was because Sean was interested in her. Deon catches them kissing and confronts Sean. With his football career in serious jeopardy and his family seeming to turn on him, Deon begins to realize a startling truth: he's not really a good person.
His family begins to fall apart. Like him, their hopes and dreams were dependant on his success in the NFL. Deon struggles to pick up the pieces of his life, and reconcile with Sean, but Dr. Brinstall informs him that the cancer has spread. With precious little time left in his life, Deon sets out to put his family back together again.
THINGS FALL APART is a humorous, touching story about a man who loses everything, but gains the world. Like the Oscar winning film THE BLIND SIDE, this is a film that will stir emotions and inspire audiences worldwide. Acclaimed director Mario Van Peebles brings the story to life with great football action and heartwarming characters. An astonishingly emotional and heartfelt star turn from Curtis "50 Cent" Jackson anchors the film. Jackson heads up a stellar cast who deliver performances that make this a crowd-pleasing instant classic.