Weekend Bits: Brian K. Vaughan Working On Screenplay To Direct, Glen Keane Might Leave Disney Animation, 'G.I. Joe 2' Release Date Announced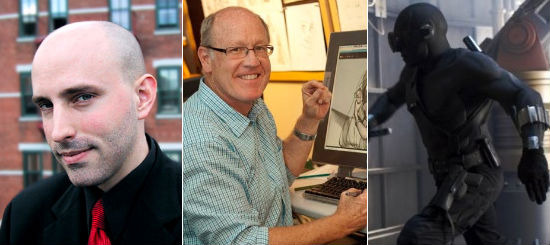 With four wide releases opening this post-Oscar weekend, Hollywood news is predictably pretty slow. So we decided to throw together three smaller stories into one article just so you can get your weekend fix all in one place.
First up, Brian K. Vaughan, former writer on Lost and creator of Y: The Last Man and Ex Machina signed with a new agency: Verve. And while agency turnover is boring, buried in the Hollywood Reporter's story about it is a nugget about Vaughan working on a screenplay he plans to direct and an update on Runaways. Interesting. Second, legendary Disney animator Glen Keane is reportedly not too happy with Disney's upcoming slate of animated films and is being actively wooed by DreamWorks Animation. Also interesting. And finally, Paramount has set a release date for the Jon Chu-directed G.I. Joe sequel: August 10, 2012. Kind of interesting. Read more about all of this after the break.
Vaughan is considered one of today's great comic book writers but, as of yet, he has yet to really breakthrough in Hollywood. His best known property, Y: The Last Man, has been put through the ringer with no end in sight, and when he left ABC's Lost to write screenplays, he generated some buzz with a film called Roundtable, but we haven't heard much about it since. That's probably why Vaughan has decided to switch agencies and, according to The Hollywood Reporter, here's what's planned next:
Vaughan is cooking up several new projects across various media, including a new screenplay on which he plans to make his feature directorial debut.
That sounds extremely promising and in line what Vaughan said several years ago.  But, with a TV pilot called Smokers in the works as well as an adaptation of his comic book Runaways currently be developed by Marvel (THR says they want to release it post-Avengers) he'll probably have to enjoy some success before anyone would let him get behind the camera. Still, Vaughan is one of the best, underrated writers currently working in movies and the fact that he has yet to see his name on the big screen is a tragedy, especially with the level of crap that's coming out.
While Vaughan has yet to see his name in lights, Glen Keane is all too familiar. He's one of the men considered to be responsible for Disney's animated comeback in the 1990s, having worked on The Little Mermaid, Aladdin, Beauty and the Beast and most recently being instrumental in Tangled. But according to Blue Sky Disney, the currently on sabbatical Keane is "unhappy" with the upcoming slate and is being "very aggressively" wooed by rival animation company DreamWorks. This would be a coup for DreamWorks if it were to happen and a huge blow to Disney as Keane is pretty much royalty. We'll update the story if there's more.
Finally, there's no real news other than Paramount announcing that G.I. Joe 2 will be released August 10, 2012. As if signing a director wasn't enough, announcing the release date cements the studio's intent to get the film done. Currently it's the only film scheduled for release that date, though The Bourne Legacy and Total Recall, two similar action movies, are scheduled the week beforehand.