Javier Bardem In Final Talks For 'The Dark Tower' [Update]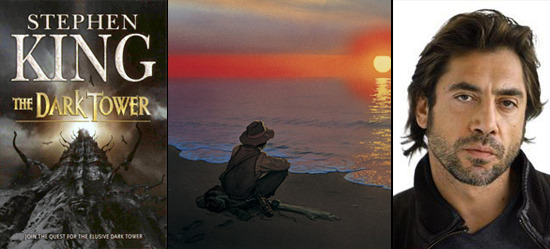 Update from Editor Peter Sciretta: Deadline is now reporting that Javier Bardem is in final discussions to play gunslinger Roland Deschain in The Dark Tower. According to the report, the deal is so close to done that "Howard has begun meeting with other actors to cast the roles around Bardem." Since there aren't any new details to add, we have Russ' original story (published March 2nd 2011) after the jump.
It has been a few weeks since we heard anything substantial about Ron Howard's adaptation of Stephen King's massive novel series The Dark Tower. Last time we checked in, Javier Bardem had been offered the lead in the project, which would encompass three feature films and two television series. It is a daunting project, because Stephen King's novels are equally imposing as they fuse together fantasy, westerns, science fiction, horror and other elements with King's own fiction and even a version of his personality.
The novels may escape being madly ambitious folly (or so I'm told; I checked out after book three) but a film adaptation seems almost crazy — how do you distill all that material into something that can look like a unified project on film? Ordering it all around a charismatic lead is one big early step to take. That's where Javier Bardem comes in, and that's part of the reason that we're not likely to hear more about the project until he or another actor signs on.
Asked by MTV about the status of The Dark Tower after the Oscars this past Sunday, producer Brian Grazer said the production was still trying to land Javier Bardem:
Javier Bardem, that's what we're hoping. We're in the process of trying to put that together. ... He's locked in psychologically. He really wants to do it, so we're absolutely rooting for him to do it.
Just to make things clear, don't expect to hear about any other cast until Javier Bardem or some other actor is locked for Roland. Asked about more casting, the producer said, "We're really just focused on Javier right now."
He's a wonderful actor, but I'm still having a difficult time believing that Javier Bardem would sign to something like this — it just doesn't seem his style. A Bond film, yeah, easy enough to see that. But something that would lock up the next few years of his professional life? That's one of the problems the producers face. The challenging material is difficult enough, and then convincing a top-notch actor that they'll look awesome instead of silly while bringing it to life is a whole other hurdle to leap. I'm rooting for this one just because the whole scope of the project is so huge that I want to see if it can be done.