Charlie Sheen Wants To Make Another 'Major League'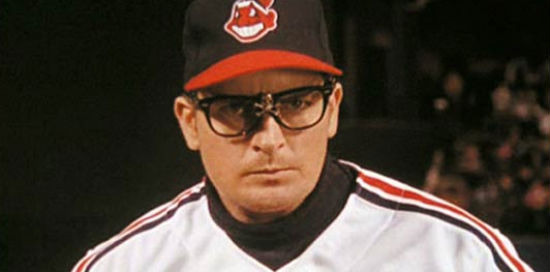 When the comedy Major League was released in 1989, little did we know how perfectly Charlie Sheen would personify the Wild Thing moniker he portrayed in film. He was crazy at the time, but in recent years Sheen has been better known for coke, hookers, million dollar paychecks and Jon Crier than making movies. Still, the Wild Thing has been our reality for years and, in an interview with TMZ, Sheen said he's doing "everything in his power" to once again make our heart sing on the big screen. If the powers that be greenlight a script, Sheen wants to make another Major League movie. Read more details after the break.
TMZ first broke the news of Sheen's desire to make the film, though the rumor has been circulating since 2009. Now though, with Sheen's backing, if the "powers that be will greenlight a script" and the price is right, he'll gladly reprise his role as Rick "Wild Thing" Vaughn.
This idea probably popped back in Sheen's head as he hosted a huge Major League screening at his home this past weekend which was attended by several prominent baseball players and the original film's writer/director: David S. Ward. Last year, it was Wars who confirmed that a fourth Major League film was in development.
Wild Thing comes out of retirement to work with this 19-year-old player. We've actually got three new characters in the new film. And if the new film is popular, they could carry the franchise on.
For anyone who hasn't seen the original film, it's a comedy about the owner of the Cleveland Indians attempting to field the worst team possible so they'll finish dead last and she can move the team to Florida. But when the terrible team gets wind of her plans, they decide to come together and finish first, not last. It features Sheen along with Tom Berenger, Corbin Bernsen, Rene Russo, Wesley Snipes, Dennis Haysbert and more. There were two sequels, one which returned most of the cast except for Snipes (he was replaced by Omar Epps) and then a direct to video third film that only returned Bernsen. However, Sheen called the third film, Major League: Back to the Minors "an abortion" and vows that, if he gets to make a new movie, it will be considered the third one.
Which is bad news for Bernsen, who was told he would not be asked to return for the film. Ouch.
Will this ever happen? Not likely. Do I want to see it happen? Most definitely. What about you?