First Look: Terry Gilliam's New Short, 'The Wholly Family'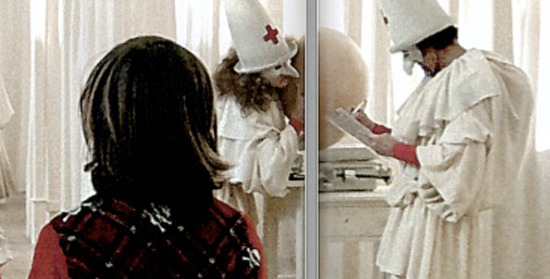 If you're feeling a bit down this Monday morning — maybe you're one of those who isn't enjoying a holiday in the States, today, for instance — you might need some clowns.
More specifically, you might need some Terry Gilliam clowns, as seen in the first images from his new short film The Wholly Family. Don't be afraid: they're Italian Commedia Dell'arte clowns... whose masks and expressions only remind me of the Clockwork Orange home invasion scene... and they seem to be attacking (or, worse, staffing) a hospital. Oh, dear, I'm really not making this any better, am I?
Clown-filled images and some behind the scenes video, after the break.
Bleeding Cool scored this pics from the Italian magazine Ciak, and also passes on the fact that Terry Gilliam is the recipient of the Bradford International Film Festival's Fellowship Award, which will be presented along with a retrospective of Mr. Gilliam's films and the premiere of The Wholly Family. (The fest runs March 16-27.)
Here is a gallery of stills:
And the behind the scenes video, in which Terry Gilliam demonstrates how to properly beat the hell out of a rug:
Recapping the idea behind The Wholly Family:
The short film, which should run about fifteen minutes, is based on a script by Mr. Gilliam that he wrote as an 'exercise'. In addition to the family of the title (father, mother and son) he was looking for "a series of Italian supporting players with mime, ballet and circus skills." As the stills show, he found them. And the short is funded by Italian pasta company Garofalo, which is commisioning a series of shorts about or set in Naples.