'I Saw The Devil' Red Band Trailer - Another Heart-Pumping, Face-Pummeling Revenge Flick From Korea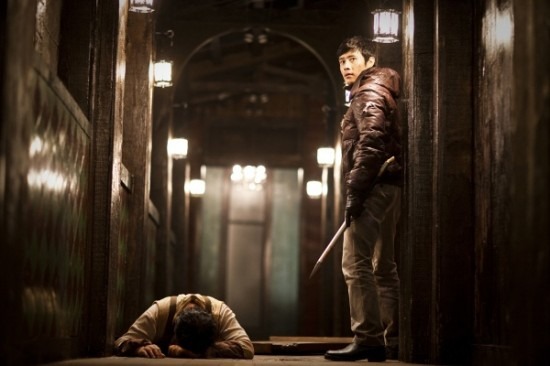 The new red band trailer for I Saw the Devil is one of the best I've seen in ages. It's certainly a marked improvement over the earlier, non-domestic trailer for the film, which featured much of the same footage, but little of the rhyme or rhythm that makes this trailer so deliriously, propulsively malicious. If you're looking to get amped for what promises to be the latest must-see contribution to an already long list of must-see Korean films, here's your starting point.
Not that anyone with an appetite for Korean cinema should be in need of convincing that this is a film worth watching, what with the knockout trifecta at the center of it. To start there's director Kim Ji-woon, whose track record — A Tale of Two Sisters, A Bittersweet Life, The Good, the Bad, the Weird — has already solidified him as one of the leading voices in Asian cinema. Then there's the cast, which brings together two of Korea's most prominent stars: Choi Min-sik (Oldboy, Lady Vengeance) and Lee Byung-hun (G.I. Joe: The Rise of Cobra, The Good, the Bad, the Weird). They're the opposing forces laying waste to each others' sanity in this brutal tale of violence and revenge, which finds an elite special agent taking the law into his own hands when a serial killer murders his pregnant fiancée. Watch the red band trailer after the break.
Think of the trailer like a two-minute musical number, except the music is composed primarily of bone snapping, shotgun blasting, throat stabbing and the occasional anguished scream. I get the sense that a number of the film's best and most shocking action beats are spoiled here, so those hoping to go into the film fresh may want to hold out. But be sure to bookmark the page for later, because the trailer is cool enough that it's worth viewing regardless of how good the movie turns out to be.
Watch the trailer below, or watch it in HD at IGN.
Two very slick posters have already been released for the film — one elegantly haunting, and the other drenched in madness — and there have been rave reviews to boot. Peter saw and praised the film back when it screened at Fantastic Fest, and Germain followed suit when it screened at Sundance. It was also featured on Peter's list of Best Movies of 2010 That You Probably Haven't Heard Of.
Here's the plot synopsis:
Kyung-chul is a dangerous psychopath who kills for pleasure. He has committed infernal serial murders in diabolic ways that one cannot even imagine and his victims range from young women to even children. The police have chased him for a long time, but were unable to catch him. One day, Joo-yeon, daughter of a retired police chief becomes his prey and is found dead in a horrific state.
Her fiance Dae-hoon, a top secret agent, decides to track down the murderer himself. He promises himself that he will do everything in his power to take bloody vengeance against the killer, even if it means that he must become a monster himself to get this monstrous and inhumane killer.