'In A Better World' Trailer – Academy Award Nominee And Golden Globe Winner For Best Foreign Language Film Of 2010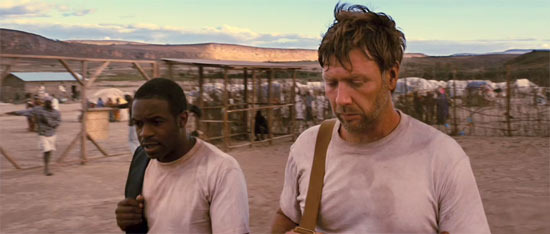 Two of the Best Foreign Film nominations for this year's Oscars were still in need of trailers when the announcements were made, but now that problem has been taken care of. Earlier this week we showed you the trailer for Incendies, a "tale of two young adults' voyage to the core of deep-rooted hatred, never-ending wars and enduring love", and now comes the trailer for In a Better World, an "exploration of masculinity and the perpetuation of violence".
The film — known as Hævnen (or "The Revenge") in Danish — is the latest directorial effort from Susanne Bier (Things We Lost in the Fire, After the Wedding), who co-wrote the film with Oscar-winner Anders Thomas Jensen. It follows a man who lives two very different lives: as a doctor at an African refugee camp, and as a separated father in a small Danish town, where he raises his two boys. But his "two worlds collide when he is challenged by his own advocacy of responsibility, compassion, and nonviolence in his encounters with damaged souls". Starring in the film is Swedish actor Mikael Persbrandt, who should be recognizable to anyone who saw Everlasting Moments. Watch the trailer, as well as the trailers for the remaining Best Foreign Film nominations, after the break.
Revenge is a topic tackled all too regularly in film, but rarely with any deep insights into the topic or how its consequences relate to realistic human conflicts. In a Better World appears intent on changing that, and given all the accolades its received, it may just succeed. The trailer alone leaves a startling impact, so hopefully the film leaves an even bigger one. In one respect it even seems a little reminiscent of The Last King of Scotland, except handled with a greater real-world authenticity and — with any luck — nuance.
What do you guys think?
(Once you're done watching the trailer for In a Better World, be sure to peep the trailers for the other three Best Foreign Film nominees, which are Dogtooth, Biutiful, and Outside the Law. Or, skip the trailer for Dogtooth and just watch the DVD, which is out now. It's also available on Netflix Watch Instantly.)
In a Better World opens in limited release on April 1.
Watch the trailer in HD over at Yahoo! Movies, or check it out below.
Here's the plot synopsis:
Anton is a doctor who commutes between his home in an idyllic town in Denmark, and his work at an African refugee camp. In these two very different worlds, he and his family are faced with conflicts that lead them to difficult choices between revenge and forgiveness. Anton and his wife Marianne, who have two young sons, are separated and struggling with the possibility of divorce. Their older, ten-year-old son Elias is being bullied at school, until he is defended by Christian, a new boy who has just moved from London with his father, Claus. Christian?s mother recently lost her battle with cancer, and Christian is greatly troubled by her death. Elias and Christian quickly form a strong bond, but when Christian involves Elias in a dangerous act of revenge with potentially tragic consequences, their friendship is tested and lives are put in danger. Ultimately, it is their parents who are left to help them come to terms with the complexity of human emotions, pain and empathy.