Tribeca Will Help Miramax Distribute 'Last Night,' Starring Keira Knightley, Sam Worthington And Eva Mendes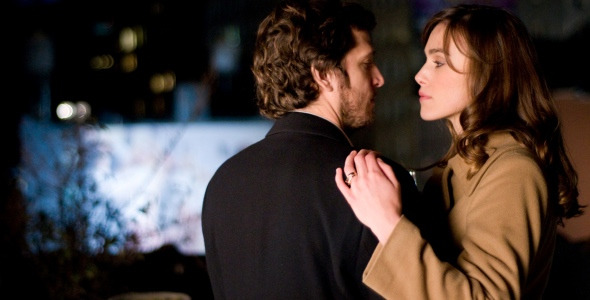 Miramax has new ownership, and is making moves as a real working company once more. This might mean good things for some of the films that were looking orphaned when Disney decided to shutter the label. The first filmto get a new lease on life is Last Night — not the Don McKellar millennial drama, but the film that was well reviewed out of TIFF last year that stars Keira Knightley, Sam Worthington and Eva Mendes. Miramax partnered with Tribeca Film for the release, and the full press release with more info is after the break.
Tribeca Film and Miramax today announced they are teaming up on the U.S. release of Last Night, an intricately layered relationship drama starring Keira Knightley, Sam Worthington, Eva Mendes and Guillaume Canet. Tribeca Film has acquired theatrical, VOD and select digital rights to Last Night and plans to release the film in Spring 2011 theatrically in multiple U.S. markets, including New York and Los Angeles, and also via national VOD outlets and on additional platforms.  Miramax has retained distribution rights for home video and television sales and long-term digital rights.Last Night centers on a married couple apart for an evening when the husband takes a business trip with a colleague to whom he's attracted.  While he's resisting temptation, his wife encounters her past love. Starring the Academy Award®-nominated Knightley (Pride & Prejudice), Worthington (Avatar), Mendes (The Other Guys), Canet (Tell No One) and Griffin Dunne (After Hours), the film is written by Massy Tadjedin, who makes her directorial debut with Last Night. Tadjedin is a screenwriter whose credits include The Jacket, which starred Knightley and Adrien Brody. Clint Mansell (Black Swan) is the film's composer, and cinematography is by Peter Deming (Mulholland Dr.)."Tribeca Film and Last Night are perfectly matched, and we are excited about the opportunity to bring this film to audiences across the country," said Jon Patricof, Chief Operating Officer, Tribeca Enterprises. "In collaboration with Miramax we will offer a range of avenues through which this film can be discovered. Along with our partners at American Express, we look forward to maximizing the potential for this film."Mike Lang, CEO of Miramax, said, "We are very pleased to partner with Tribeca to bring Last Night to U.S. audiences.  We see our deal with Tribeca Film as a strong example of the kind of strategic alliances we are looking to develop.  We look forward to expanding the film's reach to audiences globally as well as maximizing all of Miramax's retained rights, especially on the digital front."