'Bridesmaids' Trailer, Judd Apatow-Produced Comedy Starring Kristen Wiig And Maya Rudolph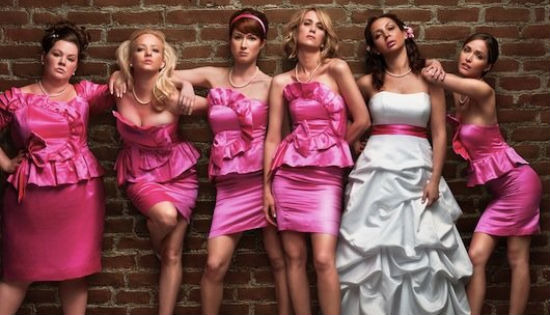 Yesterday, the poster for Bridesmaids hit the web and today we've got a full trailer. Both are awesome. The comedy, directed by Paul Feig and produced by Judd Apatow, stars Kristen Wiig as a single woman struggling with the fact that her best friend, played by Maya Rudolph, asks her to be her Maid of Honor. Rounding out the bridal party are Rose Byrne, Melissa McCarthy, Wendi McLendon-Covey and Ellie Kemper.
It's been a while  – if ever – that we've seen a broad comedy with a full female cast so I have a feeling that Bridesmaids is going to be a hit. The trailer certainly seems like that's the case. Check out, along with some new images, below. Bridesmaids opens May 13.
Head over to Apple for the HD Version of the video or just watch this embed.
So what you do think? I'm a huge Kristen Wiig fan – I think she's one of the funniest people on the planet – so the fact that she not only stars, but co-wrote this film, had me interested before we saw a poster or trailer. We already know that she and Rudolph have great chemistry, Kemper is a part of that NBC comedy team, McCarthy has her own comedy show, McLendon-Covey was hilarious on Reno 911 and while Byrne has been mostly known for dramas, her role in this seems to be the straight girl.
Actresses regularly complain that there aren't enough roles for them, especially when they're reached a certain age, so I feel like there's a lot riding on Bridesmaids. If it's successful, it could open the flood gates for all kinds of female comedy which would be amazing. We certainly could use the new set of ideas instead of the same old cliched sequels and such.
Here is a gallery of photos from the movie. Are you as excited for this one as I am?