'Cedar Rapids' Director Miguel Arteta Wants To Direct Adam Sandler As Naked 800-Lb. 'Fat Man'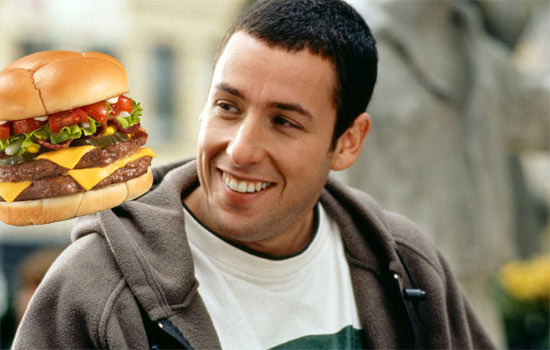 In his mainstream comedic roles, Adam Sandler tends to waver between two modes: playing himself, and playing garish caricatures of himself. The latter is more rare, previously granting us characters such as Little Nicky and Zohan, and soon granting us Jill. At least he's consistent in one-upping himself, which he may continue to do with Fat Man, a project he's purportedly circling that would find him playing a bed-ridden 800-pound man who spends the majority of the film naked. Learn more after the break.
First Showing learned of Sandler's involvement in the project through an interview at Sundance with Cedar Rapids director Miguel Arteta.
Here's what he had to say:
I'd love to do a movie with Adam Sandler that... someone said he was flirting with? It's called Fat Man. I don't know if you've heard about this? One of the main writers of The Simpsons wrote the script and it's amazing. He would play an 800-lb. guy who has a love affair between him and his nurse. And he's naked for the first half of the film... and it's very touching... and it's very funny.
So, I hope he gets the gumption to do it, and maybe I get a crack at that, that would be amazing. Certainly, it would be not a movie you would forget anytime soon... and [it's] beautifully written. I don't know if that's meant to get out on the internet...
The Simpsons writer Arteta is referring to is Mike Reiss, whose script was originally picked up by Columbia Pictures and Happy Madison back in 2003. The Playlist found further details of the film, which has "dramatic overtones" and sees the obese man in question attempting to drop the weight in the hope that his nurse will return his affection.
Between Youth in Revolt, The Good Girl and Chuck & Buck, Arteta has proven that he has a real knack for imbuing his characters with a curious sense of pensive hopefulness, and from his description of the film, this sounds like a project that could really see him thrive.
Sandler's association with the picture, meanwhile, inspires less confidence. There's always the upshot that he's eager to play the role straight, meaning we could be seeing another welcome dramatic side to the actor that surprised us all in Punch-Drunk Love and Reign Over Me, but I find it hard to believe that Sandler would ever want to play a fat guy without getting some easy laughs out of it.
Lest we forget, this wouldn't be the first time Adam Sandler has adopted a fatsuit for a role. In the film Click, he inadvertently winds up obese while misusing his "universal" remote control, immediately leading into every possible fat joke you'd expect from a Sander comedy — belly shaking! man titties! misplacing of belongings in fat rolls! — within a matter of seconds. I desperately hope that Fat Man, if indeed a future Sandler project, bypasses such lazy immaturity altogether, instead focusing solely on highbrow gags such as Sandler being unable to ascertain the whereabouts of his penis.