'Ceremony' Poster
Magnolia Pictures has released a movie poster for Max Winkler's feature directorial debut Ceremony, which premiered at the 2010 Toronto International Film Festival. Check it out right now after the jump. I heard the movie trailer will hit in the next couple days — so stay tuned for that.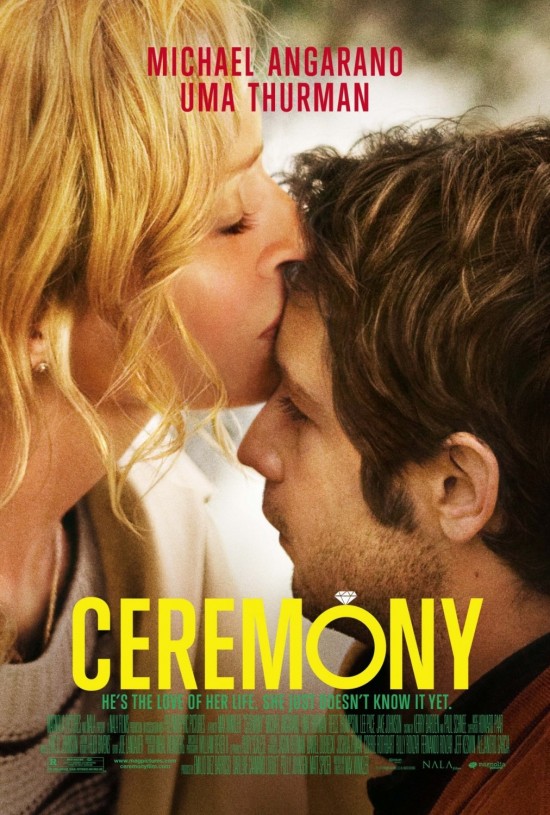 Poster thanks to IMPAwards.
The 27-year old USC film school graduate and son of television actor Henry Winkler (Fonzie on Happy Days) is probably best known as the director of the popular Clark and Michael web series which starred Michael Cera and Clark Duke. In 2005, he co-wrote and co-directed a short film titled The King of Central Park, which screened at the Tribeca Film Festival, Malibu International Film Festival and Santa Barbara International Film Festival. The short is wonderfully awkward, sometimes Wes Anderson-like, especially in the music, use of slow motion and symmetrical framing.
Ceremony stars the very underrated Michael Angarano (Almost Famous, Snow Angels) as an aspiring children's book author named Sam Davis, who convinces his former best friend Marshall (played by the also underrated Reece Thompson of Rocket Science and Assassination of a High School President) to spend a weekend with him to re-establish their friendship. But Sam has secret ulterior motives — he plans to infiltrate and break-up a wedding ceremony being held at a big Gatsby-esque-sized beach house in Long Island because he is in love with the bride, an older woman named Zoe (played by Uma Thurman).
In my TIFF review, I wrote that "Ceremony feels like the first movie from a filmmaker we need to watch — a fantastic feature debut. His screenplay is filled with complex, interesting and engrossing characters, and his film has fantastic performances across the board."