Dispatches From The 'Red State' World Premiere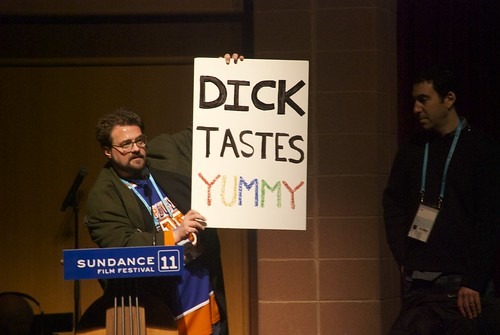 If you've been following this site during Sundance 2011, you've probably noticed a lot of stories about Kevin Smith's Red State (Follow all our coverage here). This is partially because we're collectively interested in the trajectory of Smith's career, but it's also because Smith managed to transform a typical Sundance movie screening into a media spectacle. Before the movie even screened and Smith declared war on studio distributors, members of the Westboro Baptist Church had already gathered outside the Eccles Theater to protest the film (Side note: While Red State is clearly inspired by the actions of this deplorable organization, the film makes a clear distinction between the Five Points church in the film and Phelps' church, which actually exists in the film's universe).
But any impact that the Westboro Baptist Church members might have had was immediately dwarfed by the dozens of people who showed up in counter-protest. They held up signs, some clever ("PRAISE THE GODS! ONLY ONE HATES ME!"), but most of them just totally random ("Have You Seen Waldo?" "EVERYBODY POOPS," and "I EAT SAND" rounded out some of the offerings). Smith and his entourage had their own signs (see Smith holding one above) that they wielded in their own counter-protest. I would have liked to take more time to document the event, maybe interview some protestors and counter-protestors, but I was stuck in the press tent waiting for the doors to open.
Still, I was able to grab a couple photos/video of the whole thing. Check out some of the signage after the break.
As I mentioned, a few members of the Westboro Baptist Church did show up, but they fled the scene before I could get close to any of them:
Instead, the awesome folks that dominated the night were the dozens that gathered in counter-protest. As the Westboro members left ignominiously, the counter-protestors started chanting an atonal, off-sync version of "Na Na Hey Hey Kiss Him Goodbye." But there was something undeniably joyous in their chanting. I celebrated too:
Here are some photos of the quirky signs they held up. Click through for the large versions.
And finally, the sign Smith himself used to combat the Wesboro Baptist Church members: