The Phantasmagoric 'Cemetery Man' May Get A Sequel; Director Also Talks Up 'Goonies'-Like Project With Nicolas Cage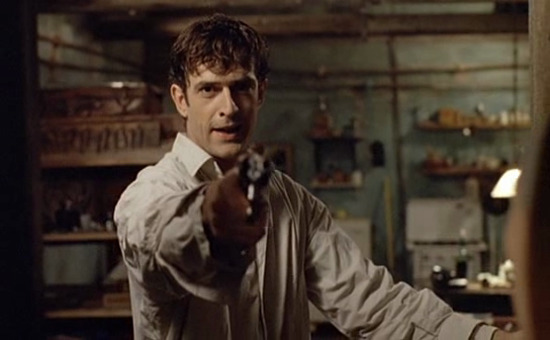 Did I just say that the discovery of previously-lost Blue Velvet scenes was the best news of the day? Well, it still is, but running a close second is the revelation that Italian director Michele Soavi might be returning to horror, and that his vehicle could be a sequel to his awesome 1994 existential zombie movie Dellamorte Dellamore, aka Cemetery Man. If you don't know that movie, then chew on this: he also mentions a Goonies-like movie that might star Nicolas Cage.
Fangoria talked to producer and director Dario Argento (for whom Mr. Soavi once worked as an assistant director and actor) who said,
Michele has told me that he has started to write the script for a special horror project he plans to shoot between the end of 2011 and the beginning of 2012: a sequel to his Gothic masterpiece DELLAMORTE DELLAMORE, a.k.a. CEMETERY MAN... He's going to produce it himself and wants it to really be a great, strong, shocking Italian horror movie.
If that's not enough, there may be another film in store:
Michele also told me... that he's probably gonna shoot, in 2011, a movie in the style of THE GOONIES, starring Nicolas Cage, about some boys' adventures in Pompeii, the dead Roman city near the Vesuvius volcano, while searching for a hidden treasure.
(Actually, it's unclear whether Dario Argento relayed the info, or if that came from Mr. Soavi talking directly to Fangoria's writer. Regardless, the mag vets the info, so...)
Both potential projects sound like great things. I love Cemetery Man to death — Michele Soavi has a great background in Italian horror (see him acting in the nasty gut-vomiting scene from City of the Living Dead!) but for Cemetery Man he took influence from the Dylan Dog comics and several other sources to produce a hypnotic, wholly unusual zombie movie. Star Rupert Everett is great as a social outcast who works at a cemetery where the dead occasionally come back to life. There he meets a stunningly gorgeous widow (Anna Falchi) and then things begin to get really weird. There's a lot of wild stuff in the classic canon of Italian shockers, but nothing quite like the events of Cemetery Man. I can't even imagine what a sequel would look like, but I'd love to see it.
The US DVD of the film is out of print, but you can seemingly still get it from Netflix. Here's a slightly not safe for work subtitled version of the original trailer:
[via Twitch]