James Gandolfini Books 'Twylight Zones,' Circles 'Cogan's Trade' And 'Extremely Loud And Incredibly Close'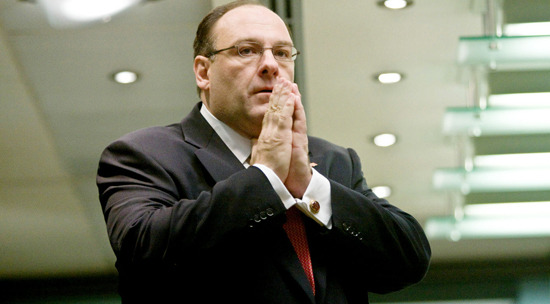 Don't call it a Sopranos reunion, but James Gandolfini is poised to work with Sopranos creator David Chase once more. The actor has taken a role in Mr Chase's new project Twylight Zones, aka the film previously referred to as the Untitled David Chase Rock and Roll Movie. In addition, Mr. Gandolfini is circling roles in two other potentially big films: Andrew Dominik's Cogan's Trade, and Stephen Daldry's Extremely Loud and Incredibly Close.
Deadline has the details on all three roles, but note that Twylight Zones is the only one totally locked down at the moment. The slightly weird title is the band in the film, which the site describes as "a drama about a New Jersey Rock'n'Roll band and the musical renaissance of the 1960s. It centers on Douglas (John Magaro), a socially awkward teen who begins to shine as lead singer in his band, The Twylight Zones."
James Gandolfini will play the father of Douglas; of course, the's the old-school type of guy who thinks his son's love for rock is disgusting. Also joining the cast are Molly Price (playing mom to Douglas) and Brad Garrett.
And then there's Cogan's Trade, which Andrew Dominik is directing based on the George V. Higgins novel of the same name. That one pulls together Brad Pitt, Casey Affleck and Sam Rockwell. Mr. Gandolfini would play "a washed-up, alcoholic, hard-up for cash hit man who was brought on by Jackie (Brad Pitt) to do the first job he's done in a long time but proves to be more of a liability than of any service."
Finally there's Extremely Loud and Incredibly Close, which Stephen Daldry is directing based on the Jonathan Safran Foer novel of the same name. Tom Hanks and Sandra Bullock are the parents of precocious young Oskar (Thomas Horn), who goes on a quest for (in very brief terms) a sort of family identity after the death of his father. Mr. Gandolfini would be a friend that Sandra Bullock's character meets at a support group.
All possibly good roles for the actor, with Cogan's Trade being the one I'm most jazzed for. That collection of talent is too good to pass up.
And by the way, I've just noticed that Romance and Cigarettes, the very odd musical directed by John Tuturro in 2005, is now streaming on Netflix. Not a great movie by a strech, but a fun, kooky one that has some good, lesser-seen work by Gandolfini, as well as from Susan Sarandon, Steve Buscemi, Christopher Walken and some very dirty lines from Kate Winslet.