Who Plays J. Jonah Jameson In 'Spider-Man'?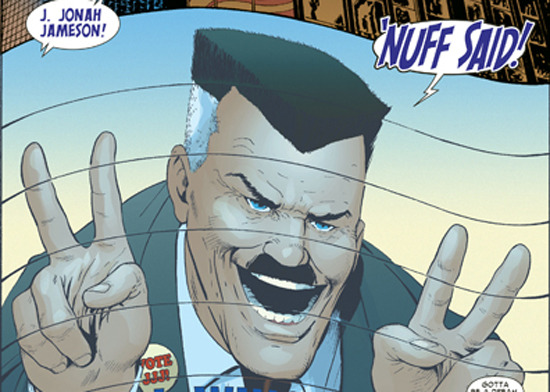 One of the best bits of casting in the Sam Raimi Spider-Man films was the choice of J.K. Simmons as Daily Bugle head honcho and original Spidey hater J. Jonah Jameson. Since Marc Webb's new Spider-Man was announced we've wondered who might take the role. How could anyone possibly stand in for Mr. Simmons?
Now we may know the answer, and while some fans might not be happy, there's an argument for this being the best replacement strategy anyone could come up with. (And no, it's not Alec Baldwin, though he'd be the next best choice.)
The answer, according to IGN, is that no one will play JJJ, because he's not in the film.
We know The Daily Bugle is part of the landscape of this story (see our earlier photo post) but this suggests one of two things. One possibility is that the entire classic subplot of Peter Parker (Andrew Garfield) working as a photographer for the Bugle has been left out, so there is no need for JJJ to appear. The other option could be that Robbie Robertson (Bill Nunn in the Sam Raimi films), another classic character at the Bugle, could stand in for JJJ. That seems less likely, not least because we don't know of an actor for him in this version, either. There's also the chance that IGN is wrong.
But be ready for a Spider-Man without Jameson. There's a part of me — the serious old-school Spidey fan — that considers that a dire omission. But for the most part it's probably a good idea. This way the story of the first film can be a bit more streamlined. Besides, who works for newspapers anymore, anyway?